These 3 States Are on the Verge of Legalizing Medical Marijuana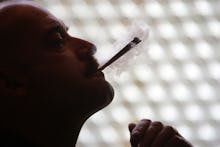 Three states appear to be on the verge of ending their war on medical marijuana users. After recent developments, Florida, Maryland and Utah all seem poised to pass or enact bills allowing medicinal uses of cannabis.
The Sunshine State: According to NORML of Florida, Florida's conservative House of Representatives recently approved HB-843 to allow research and development in a state university of a medical marijuana strain. A Tampa Bay Times poll found 65-70% of Florida voters support an unrelated constitutional amendment to legalize medical marijuana, and even the state's Republican Gov. Rick Scott is expected to let reform pass without a veto. Just 31% support recreational legalization. The idea is getting some support from the right, with libertarian fans of legalization advocating a "nullify federal drug laws" campaign.
The Terrapin State: Meanwhile, Maryland's House of Delegates has voted 123-13 for significant changes to the ineffective medical marijuana regime already in place in the state. Currently, patients must be prescribed marijuana by academic medical centers with the intention of research; none have yet actually signed up to run the programs, meaning legal medical marijuana is completely inaccessible to patients in Maryland. The changes will allow for doctors to recommend that their patients receive prescription cannabis directly.
"This bill is only for those patients who have relationships with their doctors who have debilitating illnesses, so it's very, very tightly restricted," said Baltimore Democrat Delegate Cheryl Glenn, a key sponsor.
The Beehive State: Finally, on Thursday Utah's Senate approved "Charlee's Law," named for a 6-year-old epileptic patient whose quest to receive proper treatment inspired the bill. Already passed by the state house, all it requires is the signature of GOP Gov. Gary Herbert to become official. State Sen. Stephen Urquhart (R), a co-sponsor of Charlee's Law, says that "You are dealing with an end product that is absolutely benign."
How attitudes have changed!
"I never thought that medical marijuana for children would be the thing that got this taken seriously by conservative lawmakers," Marijuana Majority chairman Tom Angell told the Wall Street Journal. Charlee passed away on Saturday, and while access to cannabis oil wouldn't have cured her condition, it would have greatly eased her suffering. 
While easily accessible medical marijuana for those with legitimate medical needs is seemingly coming to all three of these states soon, legal recreational marijuana will have to wait. But with 69% of Millennials in favor of full legalization and support still climbing, weed's march towards legal status across the country seems pretty much inevitable.