Google Earth Caught This Power Plant Dumping Cancer-Causing Pollution Into a Major River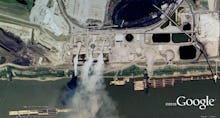 The news: On Monday environmental groups released images of a coal-ash plant in Kentucky allegedly dumping illegal waste into the Ohio river — and it's not a pretty picture.
The Sierra Club and Earthjustice had set up a hidden camera to capture Louisville Gas & Electric discharging chemicals into the river. Under the utility plant's current permit, it is only allowed to make "occasional" waste dumps. But according to a Sierra Club organizer, "If you look at the photos, it's not an occasional discharge. It's a steady stream coming out of the coal-ash containment pond … every day, all day, all night."
The group took time-lapse photography of the purported dumping site every three seconds for a year. Coupled with satellite images from Google Earth, these pictures will serve as the basis of a lawsuit filed on behalf of Kentucky residents.
Image Credit: The Sierra Club
This is bad: "Coal ash contamination is rampant across the country, and the evidence gathered at Mill Creek is unequivocal," said Thom Cmar, an attorney at Earthjustice. "Coal ash has already polluted more than 200 lakes, rivers, streams and drinking waters. The problem continues to worsen, but no federal protections exist. Our household garbage is better regulated than this toxic waste."
According to the Environmental Protection Agency, coal ash contains high levels of arsenic, lead, selenium and other heavy metals, which have been linked to cancer, birth defects and respiratory problems.
Image Credit: The Sierra Club
Activists believe that the illegal waste dumps have been going on daily for the last five years, and even began as early as 1993. But according to the Kentucky Division of Water, "the permit effluent requirements do not restrict the frequency of the discharge" — since the regulations only vaguely define "occasional," there is wriggle room for Louisville Gas & Electric to claim that their practices are not illegal.
Around the country: The news of the Kentucky dump follows a recent string of troubling chemical spills in the U.S. Last month Duke Energy, the largest energy provider in the country, spilled 35 million gallons of toxic coal ash into the Dan River in North Carolina and caused a public outrage. Not even two weeks later, 100,000 gallons of coal slurry spilled into Fields Creek in West Virginia. That was, of course, a month after a company called Freedom Industries leaked 7,500 gallons of MCHM — a chemical used to wash mined coal — into the Elk River in West Virginia. And in the latest incident, on Tuesday a Sunoco pipeline also leaked 10,000 gallons of crude oil into a nature preserve next to the Great Miami River in Ohio.