Not Many Republicans Get a Standing Ovation at UC Berkeley. This One Just Did.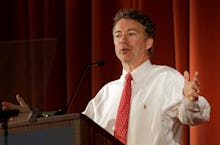 While the liberal heart of California may not be the most likely place for a conservative darling to find support, Sen. Rand Paul (R-Ky.) might have just done it. 
Earlier this month, Paul had won the presidential straw poll at the Conservative Political Action Conference, confirming his position as a top contender for the Republican ticket for 2016. But his libertarian views concerning domestic surveillance and civil liberties also found a warm welcome on Wednesday at the University of California, Berkeley — earning the senator a rousing applause from the 400 students in attendance.
"I don't know about you, but I'm worried," Paul said in regards to the latest revelations that the CIA may have spied on senators. "If the CIA is spying on Congress, who exactly can or will stop them? I look into the eyes of senators and I think I see real fear. I think I perceive fear of an intelligence community drunk with power, unrepentant and uninclined to relinquish power."
Smart politics: While it may have been a surprise to see the libertarian firebrand at UC Berkeley — the home of left-wing dissent and demonstrations — Paul courted his audience by focusing on the one topic they could agree on. Titled "The NSA vs. Your Privacy," Paul's speech made the argument that he was fighting for young people's rights. "I believe what you do on a cellphone is none of their damn business," he said to enthusiastic response. "I oppose this abuse of power with every ounce of energy I have. I believe you have a right to privacy and it should be protected."
Paul, who was making a fund raising visit to the Bay Area, was also unafraid to tackle the idea that the Republican Party must change to win over Millennials and future generations. "Remember when Domino's finally admitted they had bad crust?" Paul said to laughs. "We need a different type of party ... [we] have to either evolve, adapt or die."
It runs in the family: Paul is doing well by following the footsteps of another libertarian who is well loved by young people: his father. Rep. Ron Paul (R-Texas) had a surprisingly good showing in the 2012 primaries, especially with younger voters. The elder Paul even drew 1,200 supporters at a Berkeley rally that April, which bodes well for his son's hope to show that "the message of a Republican with a libertarian twist may well be acceptable to people, even in Berkeley."
"There are not too many people who can get a standing ovation at CPAC and a standing ovation at Berkeley," said Robert Reich, the former secretary of labor under President Bill Clinton. Reich is now a professor at UC Berkeley and attended Paul's talk, although he was skeptical about Paul's reach outside of his millennial-friendly stances. "I don't think he's here to talk about his stance on abortion or gay marriage," he added.
Indeed, Paul's firm opposition to abortion, gun control and marriage equality may not jive too well with California's liberal voters. But for now, he has the ear of some young, skeptical, independent and anti-establishment voters — and that's more than what his opponents can say.