This Scrawny 16-Year-Old Just Climbed the Tallest Building in America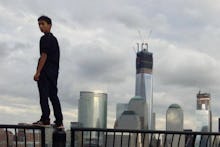 Sneaking out of your house in the middle of the night is one thing — but climbing to the top of the tallest building in America is taking it up to a whole new level.
At 4 a.m. on Sunday, Justin Casquejo, a 16-year-old boy from Weehawken, N.J., managed to elude security and reach the top of 1 World Trade Center. He then reportedly hung out there for two hours to take pictures and only got caught on his way down.
"I walked around the construction site and figured out how to access the Freedom Tower rooftop. I found a way up through the scaffolding, climbed onto the 6th floor, and took the elevator up to the 88th floor. I then took the staircase up to 104th (floor). I went to the rooftop and climbed the ladder all the way to the antenna," he told the police.
And it's not the first time that the teen has been scaling building either:
Casquejo's story has since gone viral, following the recent trend of teens and young adults sneaking onto tall structures to take pictures. But while Casquejo's night-time adventure sounds like it's on Mission: Impossible-level of insanity, it actually has less to do with the teen's ingenuity and more to do with utter failure on the part of the building's security personnel. According to the New York Post, an elevator operator gave Casquejo a lift without checking for ID, and the guard on the 104th floor was sound asleep. The guard has since been fired, while the elevator operator has been reassigned.
Casquejo's stealth mission sounds like a harmless teenage stunt, but it's worrying when you consider the fact that 1 World Trade Center is a viable terror target. The developers of the skyscraper went to great lengths to terror-proof the facilities, but that's no use if a teenage intruder can go undetected for two hours.
The exterior of the building is guarded by the New York Police Department, the Port Authority Police Department and a private security company, while a second private company is in charge of protecting the interior. The tower will have a $40 million security system by the time it opens for tourists later this year.
Since his escapade, Casquejo has been charged with a misdemeanor and criminal trespassing and was released without bail on Monday. But if you were hoping to take a look at Casquejo's daredevil photos, you are out of luck: the police seized his camera and phone before he had a chance to post his pictures online. The teen summed up his experience with one word:
Hopefully, 1 World Trade Center's security personnel have also been inspired to be more careful in the future.