Why The British 'No Make-up Selfies' for Charity Campaign Is Bad for Women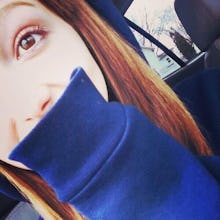 I woke up this morning to a Facebook notification telling me that I'd been nominated to post a picture of myself not wearing any makeup in the name of cancer awareness.
My first reaction was: But I'm not wearing makeup in most of my pictures, and what has that got to do with cancer, anyway?
Nothing, it turns out. The dozens of bare-faced pouts adorning social media feeds right now across the U.K. and the United States may be more about vanity than charity.
The trend started earlier this month when author Laura Lippman tweeted a picture of herself not wearing makeup in solidarity with Kim Novak, the Vertigo actress who was slammed for looking too old, ugly or otherwise imperfect at the Oscars. 
The craze soon picked up momentum, and by the start of this week found itself hitched to the hashtag #nomakeupselfie with the tenuous aim of raising awareness for cancer.
I have three major issues with this fad. The first is the idea that posting a picture of yourself au naturel is somehow relatable to experiencing the terrifying, debilitating and potentially life-threatening disease of cancer. There's something to be said for shaving your head in solidarity with a friend undergoing chemotherapy, perhaps — especially if you then donate that hair to a wig-maker — but there's nothing empathetic about snapping a quick pic of yourself pouting sans lipstick.  
The second is the smug sense of self-congratulation that seems to accompany some of these selfies. Why bother training for a sponsored challenge such as a marathon, setting up a monthly donation or signing on for regular visits to a hospital when you can just click a button, fire off a one-time text donation of $5 and brag to everyone that you've just done it? You can then apply a lick of mascara and get back to your daily life safe in the knowledge that you just did something for a good cause and all your Facebook friends know about it.
The third problem, and perhaps the most harmful one, is the idea that being seen without makeup is an unusual and noteworthy event — one that's worthy of someone else's time and money. I rarely wear makeup, and when I do it's either for fun or because I'm in need of that little confidence boost, but never because I feel that I can't show my face in public without it. Naomi Wolf's famous book The Beauty Myth argues that women's growing power in society has in turn increased expectations that they meet a certain standard of beauty, and I'm inclined to agree. 
I applaud any movement that encourages women to appear in public without feeling like they have to spend time and money grooming themselves to fit beauty standards dictated by others. I take no issue with Laura Lipmann's original bare selfie, posted in camaraderie after Kim Novak was scrutinized for not coloring within the lines of those beauty standards. But what could have been a great campaign of reclaiming natural has been warped into a bizarre brand of "bravery" for daring to upload a makeup-less picture. 
As writer Daisy Buchanan puts it: "It's weird that we fetishise the bare-faced woman. We think we're being terribly right on, modern and progressive when we praise natural beauty. 'Oh, I can't bear women who wear too much slap. It's so sad that girls can't love themselves the way they are,' is a refrain of the seemingly well meaning, manipulative man. It's stealth slut-shaming."
By the way, selfie-takers, I'm not sure it counts if you suck in your cheeks, raise your eyebrows and pout your lips, then hide your bare puckered face behind a soft Instagram filter. 
This Twitter user summed it up pretty well with this picture:
Of course, the fact that this campaign has raised money for a worthy charity is not to be ignored. Yesterday, Cancer Research UK said it received £2 million ($3.3 million) in donations in just 48 hours. The Twitter hashtag #nomakeupselfie is still going strong, and a Facebook group called No Make Up Selfie For Cancer Awareness has more than 250,000 likes.
But I'm still not buying it. No one needs to raise awareness about cancer. The trend might have led to a one-time spike in donations, but wouldn't something that promotes sustainable giving — without the three problems outlined above — have been a more worthwhile (not to mention more interesting) endeavor?
There's nothing new about using the selfie as a form of protest; the trend of writing messages on dry erase boards to speak out against racism or sexism and then holding it up to the camera has been around for a while, recently gathering new steam with the I, Too, Am Harvard campaign and its spin-offs. But this particular campaign is different. Very few of the bare-faced selfies I've scrolled through on Facebook and Twitter include any information about cancer or how to donate to charity. 
I will not be posting a no-makeup selfie in response to the nomination I received this morning. But if you want to support cancer research, you can text "BEAT" to 70099 from a UK phone to donate £3 to Cancer Research UK, or donate here to the Cancer Research Institute, Memorial Sloan Kettering or a whole host of other cancer research programs in the U.S. and around the world.