In One Word, Athlete Shows Just How Easy It Is to Include Gay People in Sports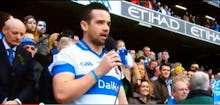 What would you do if you had to thank your colleagues and their significant others for their exceptional work? Would you acknowledge them in a speech by referencing their genders? Well, that's the least you can do, right?
That's exactly what Ger Brennan, the captain of Dublin's St Vincent's in the Gaelic football league, did when he delivered a speech to a stadium filled with screaming fans. After his team crushed the Castlebar Mitchels during an All-Ireland Club Championship match, he took the mic to deliver a few words about the importance of friends and family in the lives of his teammates.
"To the family, girlfriends, boyfriends of the players and everyone involved, there's a lot of work that goes into playing for your club team and the county, and there's always an awful lot of support behind us," he said to a cheering crowd.
Did he say just say girlfriends AND boyfriends? Oh yes, he did. Although it's unclear whether his own team has any openly gay players, their league contains two, one of whom came out on Google+ late last year.
The captain's act may seem benign, but it is a huge sign of progress. The sports world is notoriously tolerant of homophobia, and it's refreshing to see athletes take a bold stance against it. The Rainbow Project, an LGBT advocacy group, celebrated the speech and said "the nonchalant delivery says a lot about this guy and the inclusiveness of this speech and the sport." The audience's reaction is also telling: No one even blinked. 
Given that Brennan made these remarks on St. Patrick's Day, a holiday where discrimination against gay people is all too common, he should be applauded. Players here at home should also take note, especially since the embarrassing controversy surrounding Michael Sam's coming out in the NFL.
Soon assuming that not all your teammates are straight will be so normal that we won't even need to report on it. I look forward to that day, but until then, let's celebrate the little victories.
What did you think about his speech? Let me know on Twitter and Facebook.