8 Things Every Entrepreneur Can Learn From Jay-Z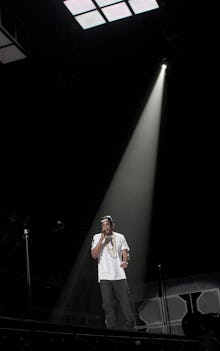 When Reddit co-founder Alexis Ohanian was asked who his role models are at SXSW last week, he eschewed naming anyone in tech. Instead he highlighted an iconic businessman he admired: Jay-Z.
"There are people who have come to accomplish so much more, it puts in perspective how little I've actually done and how much more I want to do," said Ohanian.
With an estimated net worth of $475 million in 2013, Jay-Z's success has been fueled by a mastery not only of myriad industries but of business itself. Doing more, being more and seeing more are common themes that underline Jay-Z's multifaceted career as hip-hop star, fashion executive and entertainment mogul.
Jay-Z sings it perfectly in Kanye West's song "Diamonds From Sierra Leone": "I'm not a businessman, I'm a business, man!"
Here's what every entrepreneur — tech or not — can learn from Jay-Z:
1. Be a hustler.
Before Shawn Carter became Jay-Z, he was selling drugs by the age of 12 in the Marcy Projects, a tough area in Brooklyn's Bedford-Stuyvesant neighborhood.
While his drug-dealing days are behind him, the skills that Jay-Z learned during this time have stayed with him as a businessman. Zack O'Malley Greenburg, who wrote the book Empire State of Mind: How Jay-Z Went from the Street Corner to the Corner Office, told CBS:
"One of the things that Jay-Z retained from the streets to the boardroom was the idea that he wasn't going to give anybody any discounts on anything. If a crack rock was selling for $10, you weren't going to get it for $9.95 — even if you were his best friend. That's something that stuck with him throughout his career. He wasn't going to take any less from anybody than what he thought he was worth."
"His background prepared him in another way, too: When you're used to operating under the intense pressure of the streets, where anything could go wrong and your life is on the line, going into a boardroom with a bunch of guys in suits is a lot less intimidating."
Jay-Z writes in his book Decoded: "[W]hen I committed to a career in rap, I wasn't taking a vow of poverty. I saw it as another hustle, one that happened to coincide with my natural talents and the culture I loved. I was an eager hustler and a reluctant artist. But the irony of it is that to make the hustle work, really work, over the long term, you have to be a true artist too."
2. Create your own opportunities.
For Jay-Z, success hasn't just been about taking advantage of opportunities that already exist. It's been about creating them. When he first started rapping, there were no labels willing to sign him, so he partnered with friends Damon Dash and Kareem Burke to create his own label, Roc-A-Fella Records. His first album off the label, Reasonable Doubt, is considered "one of hip-hop's foundational records."
A few years later he carved out another opportunity for himself in fashion. Although he was a major fan of Italian clothing company Iceberg Apparel, the brand wasn't interested in a partnership. Jay-Z and Dash started their own brand, Rocawear, which went on to sell for $204 million to the Iconix Brand Group.  
3. Ignore trends.
Every entrepreneur needs to know why they're launching a specific product or service. What makes it different compared to the competition?
Jay-Z writes in his book Decoded: "It's always been most important for me to figure out 'my space' rather than trying to check out what everyone else is up to, minute by minute. Technology is making it easier to connect to other people, but maybe harder to keep connected to yourself — and that's essential for any artist, I think."
U2's Bono talks about Jay-Z's unique brand as a businessman:
"In music, we love the idea of the screwed-up, shooting-up, fucked-up artist. The one bleeding in the garret having cut his own ear off. Jay-Z is a new kind of 21st-century artist where the canvas is not just the 12 notes, the wicked beats and a rhyming dictionary in his head. It's commerce, it's politics, the fabric of the real as well as the imagined life."
4. Know that your business is your brand.
Despite his involvement in everything from endorsing cognac to producing Broadway musicals, Jay-Z understands how personal business is. In an interview with Men's Health, Jay-Z said: "My brands are an extension of me, they're close to me. It's not like running GM, where there's no emotional attachment ... My thing is related to who I am as a person. The clothes are an extension of me. The music is an extension of me. All my businesses are part of the culture, so I have to stay true to whatever I'm feeling at the time, whatever direction I'm heading in. And hopefully, everyone follows."
The role of a chief executive today carries more weight than it ever has before, so it's important for entrepreneurs to really believe in their products and services.
5. Know where the money is going.
"Jay-Z has repeatedly proven his ability not just to know where the money is, but to anticipate where it will — or won't — be," writes Greenburg at Forbes.
The combination of drive, instinct and timing has enabled Jay-Z to build a powerful, ever-evolving empire that sets trends, rather than follows them.
As an entrepreneur, you should know what's trending in your industry, but you also need to be able to predict when something is going to blow up.
When concert tickets began to pick up steam, Jay-Z signed a 10-year contract with concert promoter Live Nation for an estimated $150 million.
6. Seek out mentors.
Any great entrepreneur knows that you can't do it on your own. Empire State of Mind author Greenburg told CBS:
"[Jay-Z] tends to take on mentors, learn everything he can from them and then discard them and move on to a new mentor. During his early career, you see this with Jaz-O and Damon Dash. He discarded mentors like these and kept moving on to the point where his mentors are now people like Warren Buffett and Oprah."
Entrepreneurs tend to be strong-minded, but no matter how knowledgeable you are, you can always gain more knowledge.
7. Diversify your portfolio.
Jay-Z's business ventures span a diverse array of interests and industries, including a record label, clothing line, a stake in the Brooklyn Nets basketball team (which he has reportedly sold), a nightclub, a high-end vodka, a partnership with Barneys New York and a new sports agency launched in 2013. 
Diversifying his portfolio is one of Jay-Z's business commandments, according to Greenburg, who describes it as an opportunity to "make the most money at all times."
In volatile markets, all entrepreneurs should think about multiple ways to make over their business and brand. The worse thing you can do is put all of your eggs in one basket and have that basket tank.
8. Go big or go home.
It's now been nearly 18 years since Jay-Z released his first album with his Roc-A-Fella label. His staying power has been a direct result of smart business moves and a relentless pursuit of what's next.
This legacy is also due to Jay-Z's refusal to relinquish his dream along the road to success, no matter what it took from him.
"I was forced to be an artist and a CEO from the beginning," he said."[W]hen I was trying to get a record deal, it was so hard to get a record deal on my own that it was either give up or create my own company."