WATCH: Far Right Politicians Beat Up Ukraine TV Chief – A Worrying Sign For New Ukraine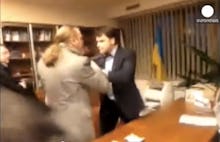 The increasingly hostile situation between Russia and Ukraine has claimed its latest victim, the CEO of Ukraine's national media service. A violent video surfaced earlier this week, revealing several thugs harassing and throwing around Aleksandr Panteleymonov, the acting CEO of Ukraine's National Television Company. The perpetrators? A Ukrainian member of parliament and a far-right Svoboda party ideologist. 
Shoving, name-calling and taunting Panteleymonov, the politicians forced the media CEO to sign a letter of resignation. Continuing their belligerence, they then posted a video of the incident online. 
RT News identified the men as member of parliament Igor Miroshnychenko and Svoboda party ideologist Andrey Ilyenko. Apparently the vehemently pro-Ukrainian men were not happy with the media outlet's recent coverage of Russia. The men were allegedly infuriated by the public broadcasting of Russian President Vladimir Putin and pro-Russian Crimean leaders signing the treaty of annexation. In response they attacked the channel's CEO, shouting expletives at him and making him sign a penned resignation letter.
Image Credit: RT News via NY Daily News
Miroshnychenko said that he did not regret the attack. According to the politician, Panteleymonov had "served Putin and Russian propaganda … at a time when Ukrainians were dying on the streets."
Press freedom experts warn that a failure to investigate and prosecute the incident could set a dangerous precedent for all journalists and media services in Ukraine. 
Ukraine's prime minister called the attack "unacceptable for a democratic society."
As Ukraine's new pro-Western government faces challenges to redefine itself amid Russian and Western pull, it also faces a very public test on how it will handle this recent assault on press freedom.