This Is Billionaire Sergey Brin's First Résumé — Dated 2 Years Before He Created Google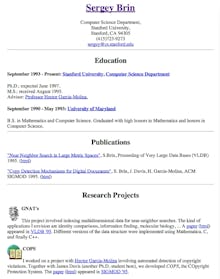 Google co-founder Sergey Brin is one of the richest men on the planet — worth $31.8 billion — and one of the biggest names in tech, but just 20 years ago he had a crappy low-res webpage just like the rest of us.
Soviet-born Brin migrated to the U.S. at the age of six and later attended Stanford University, where he teamed up with his friend and Google co-founder Larry Page to apply data mining techniques to create a better search engine. Here, courtesy of Hacker News, you can see a copy of Brin's 1996 résumé — back when Google was just a Ph.D research project, and two years before the initial rounds of funding that officially created the corporate global behemoth. Seeing as Brin now has an estimate net worth of about $31 billion, you might wonder how his stacks up to your post-college résumé:
As far as résumés go, this one needs a proofreader — some very stilted language and phrasing. But as far as a 1996 tech résumé goes, it's pretty solid. Brin seems to be very fortunate he focused his energies on Google rather than a movie-recommendation system as well!
In the web version of his resume, Brin included a little hidden HTML comment:
<!--<H4>Objective:</H4> A large office, good pay, and very little work. Frequent expense-account trips to exotic lands would be a plus.-->
Well, seems like Brin's career at Google has pretty much hit that nail on the head.
You can also find Brin's old Stanford page, replete with a hilarious .GIF and a few awkward college photo gems.
Other tech giants had relatively modest beginnings as well. Just check out these 2009 tweets from WhatsApp co-founder Brian Acton, who just sold his company to Facebook for $16 billion and $3 billion in restricted stock:
Just goes to show you that somewhere, the tech giants of tomorrow are off getting fired or rejected, or building their résumés as they cautiously emerge from grad school. Let's hope our future corporate overlords stay so humble.