Ellen Page's Tweet to a Homophobic Pastor Is Perfect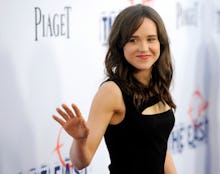 Ever since Ellen Page, the 27-year-old Oscar-nominated actress, came out in a beautifully honest speech last month, she's been more and more vocal in her support of the LGBT community. This newly energized advocacy presented itself recently in the inspired way the actress responded to a homophobic pastor's concerns about her "struggling soul." Spoiler alert: it's kind of perfect.
Taking to Twitter, Page's reply included the perfect combination of the star's trademark humor with a side helping of snark.
Since being posted on Saturday, Page's tweet has already received more than 8,000 retweets and 16,000 favorites — and some of the responses she received were amazing in their own right.
A longtime supporter of LGBT rights, Page personalized her fight for equality with a speech at the Human Rights Campaign's Time to Thrive conference in Las Vegas on Valentine's Day. After thanking the HRC's efforts on behalf of queer youth, Page announced to the audience that she too was gay, sending an inspirational and morale-boosting message that grabbed international headlines and inspired an incredible response from the community. Fighting against homophobia in general and gender stereotyping in particular, Page said she was pushed to act after an article asked, "Why does this petite beauty insist upon dressing like a massive man?" 
And she makes the point that religion shouldn't decide or dominate how we feel about our sexuality. More importantly, she is giving a voice to the entire LGBT community by taking to this public platform. She is reassuring them that their feelings are valid and that she wouldn't turn a blind eye to someone who tries to attack the community she has so lovingly embraced.