If the U.S. Legalized Weed, What Would Happen to Everyone in Jail For Marijuana Crimes?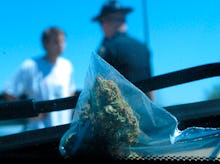 The news: Earlier this month, the Colorado Court of Appeals ruled that the state's Amendment 64, which legalized the possession of small amounts of marijuana, meant that some offenders could appeal their convictions. A unanimous decision by a three-judge panel agreed that the ruling should be interpreted retroactively, which immediately overturned the 2011 conviction of a woman for possession, and potentially setting the stage for the release of many Coloradans incarcerated for marijuana possession. Hundreds of prisoners and persons on probation could see their sentences modified, and some could even be released.
But the case isn't settled yet, and Colorado's Attorney General John Suthers plans to contest it because of how it could retroactively affect sentencing in non-marijuana related cases. For its part, the court cited state law which makes defendants eligible for post-conviction relief "if there has been a significant change in the law."
While marijuana legalization on a federal level is probably decades away, its seeming inevitability means reform advocates will eventually have to ask what will happen to the legions of people in federal prison for non-violent drug offenses. About 50% of federal prisoners (98,554 people) are drug offenders, while 27.6% of those are in prison for crimes relating to marijuana. When state prisons are included, 330,000 people — or about one in every thousand Americans — were imprisoned for drug offenses in 2011. If America legalized marijuana, what would happen to the thousands of stoners and pot dealers locked away across the country?
The answer may disappoint you: Absolutely nothing on a federal level. The United States is one of just 22 countries in the world that does not guarantee "retroactive ameliorative relief," or relaxation of sentences, for those convicted of a crime for which punishments are later eased. Sentences wouldn't even be expunged from records.
According to Amanda Solter, project director of Human Rights and Criminal Sentencing Reform Project for the University of San Francisco School of Law, "The only other countries that do this are places like Myanmar, Oman, Pakistan, South Sudan, and a handful of countries in the Caribbean. Even Russia provides this right."
For many, there could be workarounds. Various state legal systems have mechanisms for retroactive ameliorative relief that could be ordered by the courts. And it's not inconcievable that there would be a court decision opening the door for individual appeals or a mass presidential pardon (or gubernatorial ones, for that matter).
But any of these measures would only bring partial relief to a selection of offenders. If the U.S. legalized possession of less than an ounce, for example, anyone prosecuted for having more than that or dealing the drug would stay in jail. And the countless state prisoners across the country would be at the mercy of 50 different judicial systems, boding poorly for those living in the American South and Southwest:
That's assuming full legalization across the country. Individual states could choose to keep the drug illegal and remain committed to keeping those prosecuted serving time in their jails.
And the marijuana possession arrest rate is much higher for people of color, meaning that this lack of relief would predominantly fall on black prisoners.
So while some are insisting that legalization doesn't go far enough and that reparations are needed for the victims of America's mindless war on marijuana, the sick reality is that the damage of marijuana prohibition and its legacy of destroyed lives will continue on for much longer than it will take to legalize marijuana.
As The New Jim Crow author Michelle Alexander argues, this disparity reflects a fundamental unfairness still at the root of our judicial system: "In many ways, the imagery doesn't sit right. Here are white men poised to run big marijuana businesses, dreaming of cashing in big — big money, big businesses selling weed — after 40 years of impoverished black kids getting prison time for selling weed, and their families and futures destroyed. Now, white men are planning to get rich doing precisely the same thing?"