This Tomboy Was Kicked Out Of School For Defying 'God-Ordained' Gender Roles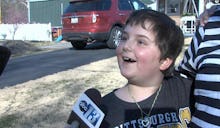 One of the best lessons we can teach our kids is to love themselves and to be themselves. Unfortunately for one 8-year-old, her school decided she was doing both of those things wrong.
Sunnie Kahle likes the things kids like: sports, sneakers, being with her friends. She also cuts her hair short. She identifies as a girl, but for administrators at Timberlake Christian School in Timberlake, Va., her appearance introduced too much confusion among her fellow students. Kahle, who lives with her grandparents, received a letter from the school saying that her gender expression "disturbed the classroom environment," and that if she did not alter her appearance and behavior to better align with her "God-ordained identity," she would not be welcomed back.
The letter included Bible verses to support its position, apparently completely glossing over everything Jesus ever said about love and acceptance.
video platformvideo managementvideo solutionsvideo player
Kahle's grandparents refused to fall in line with the school's demands and enrolled her in a public school, but Kahle remains distraught. She misses her friends and cries frequently. Still, her guardians believe that asking her to change everything about herself is a poor lesson, and too high a price to pay.
"How do you tell a child when she wants to wear pants, a shirt, and go out and play in the mud and so forth, how do you tell her, 'No, you can't, you've got to wear a pink bow in your hair, and you've got to let your hair grow out long,' how do you do that?" said her grandmother, Doris Thompson. "I can't do that."
Eight-year-old Kahle is hardly the first kid lately to be targeted for gender policing. Nine-year-old Grayson Bruce faced bullying by his own school in North Carolina for his My Little Pony lunchbox.
Bruce's treatment sparked a backlash, with thousands coming to his defense, including the head writer of the My Little Pony show, Meghan McCarthy. 
So far, it seems a similar show of Internet support may be building for Kahle.
Forcing a child out of school is more than just a nuisance — it can hurt students for years. Elementary school can be a crucial first step in a child's development of gender identity and kids need to feel safe to be themselves in a place where they spend so much time.
As for Timberlake Christian School, an institution that believes a child can encourage "sexual immorality" needs to re-examine its priorities — and maybe take a second look at the Bible.