A Homophobic Rapper Called Out A Gay Rapper — His Response Was Perfect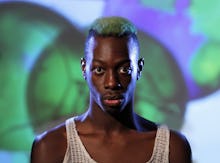 The news: Le1f (pronounced "leaf") was something of an anomaly when he appeared on the Late Show with David Letterman earlier this month. An openly gay black rapper performing for an audience with a median age of 59 isn't something that happens every day:
But the show went well, and everyone seemed willing to walk away with nothing but positive things to say. Then Lord Jamar happened.
For the uninitiated, Lord Jamar is a self-proclaimed "hip-hop conservative" who feels the need to bump his homophobic gums every time a rapper — or, sometimes, actor — does anything that challenges his limited notions of masculinity and "real hip-hop." If a black man wears a skirt, Lord Jamar has something to say about it. If a white rapper does anything whatsoever, Lord Jamar has something to say about it.
So when Le1f did Letterman — in a skirt, no less — it was only a matter of time before the Lugz-wearing 45-year-old weighed in. And he did not disappoint:
Unfortunately for him, Le1f had the perfect response — providing a simple breakdown of the struggles he's faced as a gay black man, and why Lord Jamar's views are simply an expression of overwhelming ignorance.
Here's what he said (via Facebook):
dear Lord Jamar,Choose your battles. If the whitening of rap is a concern to you, please leave my name out of it. If you think being gay is the same as being white, you are as ignorant as your enemies. I'm darker than you. I'm african. I'm a black man and I experience all the same racism you do, if not more, on top of homophobia, including from black men just like you. Are you proud of being a hateful member of a majority? Rap started out as a creative response to oppression, and no matter my outfit, I know oppressions you will never understand.All respect,Le1f
Boom. Le1f's response also refers to a recent New Yorker profile in which Jamar conflates white appropriation of hip-hop with the "feminization" of black male rap artists — both of which are supposedly ruining a culture he's trying to "conserve."
"This started with the alpha males," Jamar said in the profile. "And now it's being given to the beta males to try to flex their shit."
Jamar's views might seem cartoonishly myopic, but they are not unique, especially when it comes to hip-hop masculinity. 50 Cent made waves this month when he derided Snoop Dogg for getting a French manicure and posting the photos on Instagram. Around the same time, an article from The Root celebrating black men who "[push] the boundaries" of male attire was met with virulent backlash from Facebook commenters.
These perspectives are not only bursting with bigotry, they completely miss the point. Jamar once said: "You can't just arrogantly wear whatever the fuck you want to wear on some 'self-expression' bullshit," but he's wrong — you can. In fact, wear whatever the fuck you want, whenever the fuck you want.
Because measuring a person, an artist or a culture is far more nuanced than just clothing or sexual orientation. In the end, talent is what really matters, and Le1f has plenty of it.