Drones Are Being Used to Save Endangered Animals From Poachers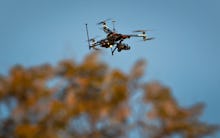 Big Brother may have unknowingly given a gift to thousands of endangered species across the globe. Though the move may not be enough to separate the drone from its reputation for spying on people and killing civilians overseas, Kenyan officials are casting the surveillance machine in a more humane light. 
Kenya will be deploying surveillance drones over remote wildlife areas to help track endangered species and, more specifically, their poachers. Quiet overhead drones will give law enforcement a bird's-eye view of illegal wildlife activity, aiding officers in arresting unlawful hunters. 
The move will help combat an international crime known for its links to gang and terrorist activity. The $19 billion global industry around illegal wildlife products keeps poachers hunting for exotic animal parts, ensuring a high demand and steady work. The drone may soon help stop it. 
Tech experts, law enforcement and conservationists are teaming up to protect Africa's wildlife. Take a look at how drones are changing the anti-poaching game: 
"We attribute the problem of poaching in Kenya and other African states to growing demand and high prices offered for rhino horn and elephant ivory in the Far East countries," William Kiprono, Kenya Wildlife Service's acting director general, said at a news conference in Nairobi.
Just last year Kenyan officials seized an amazing 13.5 tons of ivory in the port city of Mombasa. That's more than 29,000 pounds of animal tusks, undoubtedly worth millions. Drone surveillance will help the government catch collection of ivory and other rare animal products before they make it to coastal cities for export. 
This infographic explains how drones will aid officials in catching poachers. Drones will submit video footage in real time to monitoring officials. Once suspicious activity is detected, on-the-ground police can rush to the scene. 
Image Credit: The Atlantic 
Organizations like the World Wide Fund for Nature have been exploring animal-saving tech options for months now. In Nov. 2013 field tests succeeded in following black rhino herds through the dead of night. Surveillance technology could help countries like Kenya, South Africa and Botswana, where poaching is rampant.
Similar projects have been deployed in Thailand and Uganda, raising hopes that drones could be used for good.