Yet Another European State Wants to Become an Independent Nation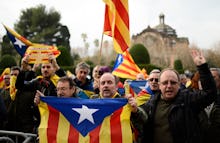 Venice unofficially declared its independence from Italy this week, and now yet another European region is eyeing secession from its country.
Catalonia, the wealthy French-bordering region of Spain, is pushing for an independence referendum on Nov. 9. There have been several separatist pushes in the past, but this is the first time that the Catalan public will actually vote on a measure. Though a Spanish judge ruled on Tuesday that the planned referendum is unconstitutional, Catalan authorities said that it would go ahead as scheduled.
"This will have no effect on the process," said government's spokesperson Francesc Homs.
Image Credit: AP
The background: The separatist movement has been gaining some ground in recent years. Last September, over 400,000 Catalans gathered in Barcelona to form a 250-mile human chain around the capital, voicing their support for independence from Spain.
Much like the case with Venice and Italy, Catalonia is better off than many parts of Spain and has had to bear the burden of helping out the rest of the country during a crushing economic downturn. It is the wealthiest and most highly-industrialized region of Spain, and its 7.5 million people want greater economic and political authority — despite the fact that it is already considered an autonomous region.
There are other sociocultural factors at work as well. Most people in the region speak Catalan, a language that is distinct from Spanish. Although it has been a part of Spain since the 15th century, a significant portion of the population does not identify as Spanish — a sentiment that was exacerbated due to the Franco dictatorship's attempts to suppress Catalan identity.
Image Credit: El Periodico
What will happen next? Spanish prime minister Mariano Rajoy has vowed to block the referendum, and the parliament voted overwhelmingly to reject it. "This referendum can't take place, it is not legal," Rajoy said. "It is the entire Spanish people who have the capacity to decide what Spain is."
The Catalan authorities have already gone ahead to set up their own tax collection agency, but their move may be premature. Recent polls indicate that less than half of Catalans want the region to be fully independent, while over 30% are against the measure.
Both EU and NATO have sided with Spain, warning Catalonia that it will be excluded from both organizations if it does secede.