Did You Choose The Right School? The Top 5 Colleges for Each Major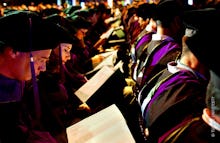 Right now may be the scariest time to study your passion (especially if you're a creative) as college tuition is rising faster than inflation and student debt is spelling trouble for the economy. But if what you do defines who you are, then where you go to school, what you end up studying and how you spend your working days will affect your overall happiness.
As the cost of a degree has risen 1120% since 1978, it's hard to keep up with what's worth studying. Since there are no rules for attaining success today, this is the time for young people to pursue what they want to do. But you should do some research to determine the best route to get there.
Here's a great way to do so: Study the return on investment (ROI) for your major. PayScale, a data insight company, recently released numbers for ROI rankings from U.S. colleges and universities.
If you're not a graduate of top-ranked Harvey Mudd College, don't worry: You can sort through rankings by region, school type, gender and major to find out how your degree could play into your future earnings.
If you're worried that your passion for the humanities has doomed you, it hasn't. Here's the top five colleges for each of the most popular majors:
Surprised? Delighted? Is your school on the list? Of course, some say that money is a terrible way to choose a school, and that there's a lot to be said for being engaged with your schooling. ROI isn't everything, and financial success is going to look different for an artist than it does for an engineer. But if you decide to study humanities instead of engineering, you can still make a decent amount of money. Payscale maps out the most popular jobs by major and lists the salary potential for each. 
Taking the time to adequately research your options will give you a head start on your career.