A Simple Explanation on Why Facebook Bought a Virtual Reality Company for $2 Billion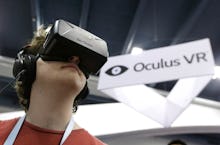 On Tuesday, Facebook confirmed it will purchase virtual-reality company Oculus VR, which builds the Oculus Rift gaming headset, for about $2 billion in cash and stock.
Plenty of people are, well, kind of confused as to why Facebook would spend $2 billion on a company that produces virtual reality video-gaming goggles. It's pretty simple. Facebook thinks that in the long term, you'll be browsing the Internet in 3D, and it's concerned about being left behind by competitors if they develop next-gen consumer technology first. Business Insider suggests primary motivators for Oculus in particular: one, that Facebook CEO Mark Zuckerberg believes that virtual reality is likely to be the next major computing platform, and two, the actual terms are less expensive than you'd think. Facebook is spending just $400 million in cash and $300 million in earnout bonuses — the rest is 23.1 million shares of Facebook stock, which is "basically monopoly money."
"We're going to make Oculus a platform for many other experiences," claimed Zuckerberg while announcing the deal. "Imagine enjoying a courtside seat at a game, studying in a classroom of students and teachers all over the world or consulting with a doctor face-to-face — just by putting on goggles in your home. This is really a new communication platform."
"Virtual reality was once the dream of science fiction. But the Internet was also once a dream, and so were computers and smartphones. The future is coming and we have a chance to build it together. I can't wait to start working with the whole team at Oculus to bring this future to the world, and to unlock new worlds for all of us."
The dream of science fiction indeed:
The news has set off a frenzy in the stock market, with companies that just sound kind of like Oculus taking off. Not-too-savvy investors have sent Oculus VisionTech (OTVZ) up as much as 31% to $0.21. Its primary business is digital watermarking. Oculus Innovative Services (OCLS) is up 8.8% to $4.94, even though that company makes prescription and nonprescription health care products.
But is Zuckerberg's stated dream of bringing virtual reality to your social networking realistic? Well, yes and no. The technology is certainly next-gen, though Oculus isn't quite done making a consumer-grade product. TechCrunch's Darrel Etherington suggests that while high-minded, similar acquisitions of seemingly unrelated technology (like robotics) by Google point to heavy competition for next-gen hardware by tech giants. They're making bets in advance to prepare for a "game on a board that isn't yet clearly defined, and that won't take shape for at least another few years."
Forrester analyst James McQuivy told the AFP that buying blindly might not be the smartest of moves.
"Facebook is putting itself in a position to offer an experience we are not going to need that much, especially if it means strapping something to your head. If this is Facebook's way of getting into a Google Glass type experience, that makes a little more sense but they could do that from scratch."