9 Brilliant Musicians Who Are Breaking Down Gender Stereotypes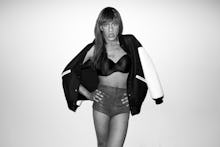 Music is all about performing; so is gender. And just as we bring our expectations about tone and pop conventions to how we process music, we also bring all sorts of stereotypes about gender to how we see people. But when truly talented artists combine the two, barriers start to come crashing down.
Here are 9 brilliant musicians who challenge our assumptions with their music videos, MP3s and stage performances:
1. Mykki Blanco
Mykki Blanco is a brilliant musician with an incredibly fluid gender performance. In this video for "Head is a Stone," Blanco's gender presentation is beautifully impossible to pin down.
Mykki spoke to Interview magazine in 2013, saying "It really wasn't until I started dressing as the opposite sex pretty regularly that I began to see my gender identity shift. … It's like a whole entire road opened up and in a lot of ways, it made my life so much better."
Blanco's fiery lyrics, forceful delivery and thundering drums are impossible to ignore. They sound like the work of a singer ready to meet destiny head-on.
2. Le1f
It was innovative enough when Le1f, an openly gay rapper, first appeared on the Late Show with David Letterman earlier this month. It was only more powerful when he performed in a skirt and then took down the homophobic response he got from conservative rappers. He's challenging gender norms where they're already extremely dominant — mainstream hip-hop.
The same goes for his steamy "Spa Day" music video. Le1f luxuriates on a massage table wearing heels, and then appears shirtless with a baseball cap cocked on his head. All the way through, he does what great hip-hop should do — challenge our preconceptions with killer lines like:
"Now what you wanna do?
3. CocoRosie
CocoRosie is the kind of band that only the strangest family history could produce. Sierra Casady was formally trained as an opera singer in New York City while her sister Bianca delved into folk rock and acoustic instruments. After reuniting in Paris, they released the beautiful La maison de mon rêve, a beautiful and strange album.
In later albums, they made pretty esoteric references to "Rainbowarriors of two spirits." It's a strange phrase, but it turns out this is a Native American idea of a third gender identity. It's important to all their music — Bianca often appears on album covers, on stage and in music videos with a penciled-in moustache or facial hair attached to her face. They may sound like twee at first listen, but they're one of the most inventive bands going.
4. The Knife
Another sibling pair pushes our notions of gender. The Knife's brand of eerie and ecstatic indie disco is only made more mysterious with their frequent use of masks.
In "Pass This On," singer Karin Dreijer Andersson plays with her voice, too, digitally shifting its pitch from beautiful soprano highs to murky lows. The music video only deepens its brilliant gender bending by showing the performance in a football club where a bunch of skeptical men watch Andersson's hypnotic performance.
5. Double Duchess
Get ready to clap your hands and swing your hair back and forth. This catchy rallying cry includes shoutouts to queers around the world, as the rapping duo vogues in parking lots, in public restrooms and on bicycles.
This music video is what I imagine San Francisco is like every single day. People standing on street corners, yelling:
"All you circuit queens working it from coast to coast!"
6. Schmekel
Schmekel, which means "penis" in Yiddish, doesn't beat around the burning bush. Just take a look at their website, transjews.com. This punk band is self-described as "Queer Jewcore from Brooklyn — 100% Transgender, 100% Jewish!"
Their campy set lists are full of gems like "FTM at the DMV" and "New Men with Old Man Names." Every song brilliantly details the struggles transmen face in daily life. And lyrics like "The synagogue is packed, but I am only binding," will have you in giggles.
7. Patrick Wolf
When trying to figure out how to describe Patrick Wolf's music, the words "elegant" and "untamable" come to mind. Maybe that's why he named his first album Lycanthropy, a term with Greek origins that means the "transformation into a werewolf." His songs include several odes to shifting identities. In the title song's lyrics, Wolf sings,   
"I was once a boy
And I grew a hairy skull
Of stubborn fire.
Then I was a girl
'Til I sewed my hole up,
And I grew a hairy heart
Of dark desire." 
Also, androgynous film star Tilda Swinton collaborates with him on his album, The Bachelor. So there's that.  
8. Marilyn Manson
The O'Reilly Factor is probably more responsible for introducing people to this great artist than it'd like to admit. During the show's "Children at Risk" special (oh, the irony) Bill O'Reilly showed some clips from Marilyn Manson's "Holy Wood" music videos and tour to demonstrate their shocking and sacrilegious content. And everybody with legitimately good taste who happened to be watching the O'Reilly Factor was immediately converted. 
Manson has gone through a multitude of aesthetic "eras," some of which dramatically bend gender expression. Our parents and media pundits continued to freak out during the Mechanical Animals era, which featured Manson's alien Omega persona, characterized by a blend of gender markers. He's been a consistent innovator for decades, and he's showing no signs of slowing down.
9. Garbage
"You free your mind in your androgyny."
Enough said.