The iPhone 6 Is Coming in September, and This Is What It Looks Like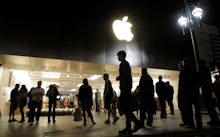 Meet the iPhone 6.
According to Nikkei Asian Review, suppliers of the iPhone's screens are beginning to ramp up their production schedules in preparation for a September release date. The new phones will come in two sizes, with 4.7- and 5.5-inch models available. Manufacturers have already begun building components such as fingerprint sensors and chips for liquid-crystal drivers, and mass production of the LCF panels themselves will begin in the April-June quarter at facilites in Kameyama, Mobara and elsewhere.
If Nikkei's sources are accurate, then the new iPhones would be a substantial size upgrade from the current iPhone 5, which has a 4-inch screen. And it would be the first time the company has released two phones in the same cycle (the difference between the iPhone 5C and the original iPhone 5 was so minor that Business Insider considers it a re-release). Apple's competitors Samsung and HTC generally have 5-inch screens on their phones, which ISI analyst Brian Marshall says is a major factor in lagging iPhone sales. Claiming that such a size increase would be the "'mother lode' of all Apple upgrade cycles," he writes about the new form-factor's projected impact on sales:
We estimate the current iPhone installed base to be about 260mil users (roughly equivalent to the last 7 quarters worth of iPhone units). By our calculations, we estimate slightly over half of iPhone sales today go to upgrades (with the majority of new users coming from international markets). However, we believe that while the upgrade rate (i.e., % of installed base upgrading their device in a given quarter) had hovered in the 10-11% range over 2011-12, it has now dropped closer to 9% as users find few compelling reasons to upgrade. In peak quarters, the upgrade rate has reached the ~12-14% range and we expect a similar upgrade rate in 2H14 for iPhone 6, if not better. We believe this could drive ~$3.00 (or ~10-15%) EPS accretion over 2H14 assuming an incremental ~3% of the base upgrades each quarter.
Other rumored features include a harder-to-scratch Sapphire screen.
Apple has a long way to go to reclaim its throne. Digital Trends notes that sales growth in the company's mobile division has essentially flatlined, meaning that increasing competition from cheap Android phones as well as a failure to wow customers with new products may have made Apple hit its market peak.
Samsung in particular has done well in recent years.
And Android in general is dominating.
It's a growing war with huge rewards for the victors. Global shipments of smartphones topped 1 billion units for the first time in 2013, up 38.4% from 2012's 725.3 million.