4-Year-Old Boy Beaten to Death by Mother Who Thought He Seemed Gay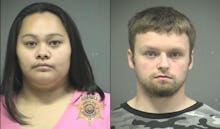 Oregon mother Jessica Dutro, 25, badly beat her toddler son, Zachary Dutro-Boggess, in August of 2012. It was the day after his 4th birthday. The child had "trauma to his abdomen that caused tears to his bowel, and urine and fecal matter seeped into his body cavity and damaged his vital organs." 
Two days later, the young boy was taken off of life support at a Portland hospital. Dutro was charged with murder by abuse and second-degree assault. The possible trigger for the horrific crime? According to prosecutors this week, Dutro suspected that her son was gay.
The judge ruled that a Facebook message Dutro sent to her boyfriend was valid evidence. In the message, Dutro wrote that she thought Zachary was a homosexual, using a homophobic slur. "He walks and talks like it. Ugh," she wrote.
Dutro's 8-year-old daughter testified against her mother — whom she called "Jessica" — on Thursday, stating that Dutro used to give her and her brothers "lickins" when they were bad. 
Child abuse is an ugly, painful problem to face. Nationally, in 2012, about 1,640 children died because of abuse and neglect. 
Each state has its own definition of child abuse, though most recognize four types: neglect, physical abuse, psychological maltreatment and sexual abuse. But all states have reporting laws that mandate certain professionals and institutions to report suspected maltreatment to a child protective services agency. Also, the federal definition provides a bare minimum:
"Any recent act or failure to act on the part of a parent or caretaker which results in death, serious physical or emotional harm, sexual abuse or exploitation; or an act or failure to act, which presents an imminent risk of serious harm." 
Image Credit: Dept. of Human and Health Services
Neglect is by far the most common type of child abuse, accounting for almost 80% of cases in 2012. Physical abuse is the next most common, at 20%. In 2011, parents, acting alone or with another parent, were responsible for 80% of child abuse or neglect fatalities. These perpetrators are usually ages 18-44, like Dutro. 
Victims are evenly boys and girls. In terms of ethnicity, they are are roughly 44% white, 22% Hispanic and 21% black. Children in their first year of life account for almost half of all cases. About 80% are under age 4, as Zachary Dutro-Boggess would have been, had he not just celebrated his 4th birthday. Sadly, these children are the most vulnerable for many reasons, including their dependency, small size and inability to defend themselves. 
Unfortunately, a case of child abuse is not always black and white. Recently, for example, Shanesha Taylor — a homeless, single mother of two children — left her kids in the car for 45 minutes while she went into a job interview; she did not have childcare. She was charged with two felonies for child abuse and remains in jail.
The case of Zachary Dutro-Boggess' death, on the other hand, is sickening. Those following the trial can only hope that justice is served swiftly and appropriately.