England Legalized Gay Marriage at Midnight — It's Your Move USA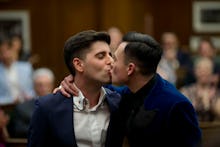 The news: Let the wedding bells ring — England and Wales began officiating its first same-sex marriages this morning.
Just after midnight, Londoners Sean Adl-Tabatabai and Sinclair Treadway became the first married gay couple in England. "Some people say, 'You gays are trying to redefine marriage,' but the definition of marriage has already changed," said Treadway. "Now it's between two people who love each other."
Politicians from all sides of the aisle came together to celebrate the historical moment, with rainbow flags flying over government buildings. "For the first time, the couples getting married won't just include men and women — but men and men, and women and women," Prime Minister David Cameron said in a statement. "When people's love is divided by law, it is the law that needs to change."
Image Credit: AP
The background: The British Parliament passed marriage equality legislation last July, allowing religious organizations to opt out of performing same-sex marriage ceremonies — the Church of England and the Church in Wales were barred from receiving this exception.
Though the Church of England indicated its reluctance in the past to officiate same-sex marriages, it announced on Friday that it would no longer voice opposition. "The law's changed; we accept the situation," said the Archbishop of Canterbury, Justin Welby.
Scotland followed England and Wales' suit this February, becoming the 17th country to legalize same-sex marriage. Northern Ireland, which has a historically strong Catholic population, now remains the only member of the United Kingdom without marriage equality.
Image Credit: AP
How about the U.S.? Marriage equality is well supported in England and Wales, with 68% of British people in favor of same-sex marriage.
Recent polls indicate that a slight majority of Americans are also in favor of marriage equality. According to Gallup, 52% of respondents said they would support same-sex marriage. Currently, just 17 U.S. states, along with Washington, D.C., allow same-sex couples to get married — not even half of the country.
An updated map of gay marriage legality can be seen below, courtesy of the Washington Post:
Just 22% of Republicans over the age of 65 said that they would support same-sex marriage, while 39% of all respondents who identified as Republican said the same.
The numbers were significantly higher for the Democrats, with 69% of Democrat-identifying respondents supporting same-sex marriage. In the 18-29 age group, 77% said they support marriage equality, as did 62% of those over 65, creating a much narrower point gap between the age groups than the Republicans.
Maybe there's hope yet for gay marriage in the USA ....