13 Powerful Photos Show How Rio Has Become a War Zone Just Months Before the World Cup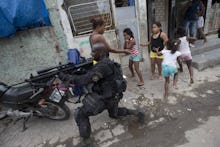 International sporting events are supposed to be about unity and sportsmanship, qualities that bring the global community together. But sometimes the human cost of staging these events is too much to ignore. While Qatar, host of the 2024 World Cup, has been accused of human rights abuses of its migrant workers, this year's host is dealing with some serious problems of its own. 
Brazil will host the FIFA World Cup this summer and the Summer Olympics in 2016. In preparation for two of the biggest sporting events in the world, authorities in Rio have been staging massive "clean-ups" that many believe amount to serious human rights abuses. Around 19,000 families near development sites have been forced to relocate with little notice or compensation. Violence has risen in the area, leading to deadly clashes between gangs and the police.
As with Sochi and Qatar, neither FIFA nor the International Olympic Committee have chosen to address these events. Quite simply, the slums of Rio have turned into war zones, and innocent people are getting caught in the conflict. Here are 13 photos that show how Rio is transforming in the lead-up to the World Cup:
1.
The Rio police had a shootout in February in the Juramento slum, killing six suspected gang members. One police officer died.
2.
There have been "pacification" operations put in place, with armed troops and federal police patrolling local slums to quell violence.
3.
Police occupation of these slums have been going on since 2010, but local drug lords have been increasingly striking out in retaliation.
4.
Currently, there are 38 pacification units and 9,000 officers occupying these slums. More are expected in coming weeks and months. 
5.
The pacification units have been installed in 174 favelas, which are home to around 600,000 people.
6.
Gang retaliation has grown worse in recent months, with multiple attacks on police bases in the favelas. Five officers have been killed since February, and three police stations were set on fire last week.
7.
The Rio state governor has called in the army to reinforce police bases.
8.
On Sunday, the task force occupied Mare, one of the most notorious hotbeds of organized crime. Over 1,000 officers were involved in the operation.
9.
Around 130,000 people live in Mare. It is also home to a large drug-trafficking ring, and the task force was able to seize hidden drugs and weapons during its initial sweep.
10.
Mare also happens to be located near the international airport and is one of the areas targeted by the government to clean out before the World Cup.
11.
Innocent residents have been caught in the middle of the firefight. "People are afraid to stay out at night. The later it gets, the more shootings and confrontations you hear. Nobody knows what will happen next," said Hercules Ferreira Mendes, a favela complex leader.
12.
While some residents have welcomed the crackdown on gang violence, others believe that the police is just as bad. More than 20 officers who were involved in an operation in Rocinha are now facing charges for the torture, disappearance and presumed death of a slum resident.
13.
"Those of us who live here are stuck between the gangs and the police; we don't know who is really going to control this place," said one teenage resident.