The 17 Most Surprising No. 1 Songs of All Time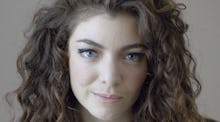 When music lovers think of the top 40, they typically shudder. And when they hear what's topping those charts, they just might cry.
No. 1 Billboard hits have a history of being predictable and inane. "Ice Ice Baby," for instance, has held music's most coveted spot. So has "The Macarena." And who could forget "Sexy and I Know It." We, as a music-loving nation, don't always have that much to be proud of.
But there have been some huge exceptions in Billboard history — moments when a truly great song will rise out of nowhere to top the charts and right the world once again. Here are the 17 best, most unexpected No. 1 singles of all time.
1. "Georgia On My Mind" by Ray Charles (1960)
This is a timeless classic by a timeless legend. Charles' career could have ended up quite differently — before recording "Georgia," he was largely a soul and jazz singer with an urban audience. But "Georgia" cemented Charles' place at the top of the pop world and showed his versatility and crossover appeal. It also became the Georgia state song, which is pretty badass.
2. "House of the Rising Sun" by The Animals (1964)
There are a ton of versions of this song, and it's more than a little strange that the most successful one was by a British rock band. But in 1964, The Animals took a New Orleans traditional about a whore house straight to No. 1.
Thanks to this song, Americans got a good decade of sloppy Brits and Americans like the Rolling Stones, the Doors and the Troggs screaming pop songs and reinterpreting classics.
3. "Light My Fire" by The Doors (1967)
This is probably the most baroque and mysterious song ever to make it to the top of the charts. It's hard to imagine a song in the '60s conquering with similarly explicit references to drugs ("girl, we couldn't get much higher"), but even the pop charts couldn't argue with this incredibly seductive song.
Admittedly, the meandering guitar and keyboard solos were cut from the radio version, but this has to be one of the strangest No. 1s ever. Just imagine Miley Cyrus giving a spoken word introduction like that.
4. "War" by Edwin Starr (1970)
Starr, initially an unheralded soul singer from Nashville, was an unlikely poster child for the anti-Vietnam War movement. In fact, he wasn't even the first artist to get the song — the Temptations recorded it first (with some pretty weird "Hup-2-3-4" background chants). But Starr's powerful grunts and snarls made him an overnight star and a protest hero.
5. "My Sweet Lord" by George Harrison (1970)
This was the first Beatles solo track to hit No. 1 after the band's devastating breakup. It wasn't John Lennon or Paul McCartney singing about silly love songs, but rather Harrison's intimate pledge of devotion to God.
In the words of Kanye West (on "Jesus Walks"): "But if I talk about God my record won't get played." That song was also a Top 20 hit. Time to change the lyric, Ye.
6. "Family Affair" by Sly & The Family Stone (1971)
"Family Affair" is a sludgy, dark, messy piece of art more fit for the bedroom than the radio. It's a badass funk song that had no place being at the top of the pop charts, but somehow it dominated.
Even Sly himself didn't think the song was appropriate for single play. Still, the song actually ruled the airwaves for three weeks. This should have been the first sign to America that the '70s would be a weird time.
7. "Theme from Shaft" by Isaac Hayes (1973)
This is one of the most classic funk and soul songs of all time, but it's also one of the strangest songs to top the pop charts.
First, it's a movie theme song. Second, Hayes' "Theme from Shaft" hardly has a melody or a hook — it's just a stone-cold funky groove that sits in the pocket for three minutes. Third, the first lyric is "Who's the black private dick that's a sex machine to all the chicks?"  Occasionally, someone shouts "Shaft!"
But Hayes was rewarded appropriately for this bit of soul genius — in addition to hitting No. 1, he won the Oscar for Best Original Song, making him the first African-American to win that category.
8. "When Doves Cry" by Prince (1984)
Perhaps the weirdest hit from the weirdest pop star of all time. From the orgiastic guitar explosion at the opening to the slinky, bass-less groove to the swooning vocal harmonies, Prince challenges every conception of what a pop anthem should sound like. This isn't just a pop hit, it's a pop masterpiece — it's that rare piece of avant-garde music that somehow breaks through to the mainstream.
9. "Money For Nothing" by Dire Straits (1985)
Dire Straits is a legendary, influential rock band, but they only had one No. 1 hit. And it was eight minutes long.
Their sneering anthem "Money For Nothing" completely takes down MTV and music video culture. Fittingly it's the first song ever to be aired on MTV Europe. Must be the language barrier.
10. "A Whole New World" by Aladdin soundtrack (1992)
This singalong ballad between Aladdin and Jasmine from the 1992 Disney movie was a massively surprising hit in two ways. First, it was (and remains) the only Disney animated song to hit No. 1; second, it dethroned Whitney Houston's titanic "I Will Always Love You," which had reigned over the pop world for a record 14 weeks.
11. "Candle in the Wind" by Elton John (1997)
Elton John is like pop music's master of ceremonies, so it's no surprise he wrote an amazing song that dominated the charts. It is surprising, though, that this song took 24 years to reach the top.
John wrote the original version in 1973 to honor Marilyn Monroe, but rewrote the lyrics in 1997 following the sudden death of Princess Diana. The song was a calming, uniting force around the world, and became the second best-selling single of all time.
12. "Mo Money Mo Problems" by The Notorious B.I.G. (1997)
It's quite bittersweet when artists only get recognized after their death. In this instance, "Mo Money Mo Problems," a celebratory rap posse cut, hit No. 1 just a few months after the larger-than-life The Notorious B.I.G. was shot to death in Los Angeles.
As far as legacies go, though, there isn't a much better one you could ask for.
13. "Fallin'" by Alicia Keys (2001)
Alicia Keys seems like the type of classy, talented artist that gets plenty of critical acclaim and Grammy love but can't compete on the charts. In 2001, she was fairly unknown, too. But this is the song that defied all the odds for her.
Up against club bangers like Destiny's Child's "Bootylicious" and Christina Aguilera's "Lady Marmalade," the rookie Key's soulful, piano-driven debut stormed to the top — and won three Grammys to boot.
14. "Slow Jamz" by Twista ft. Kanye West and Jamie Foxx (2004)
This is what happens when three young artists who have never charted make a song together. Dedicated to a bygone era of music making, "Slow Jamz" would help kick-start Twista and West's careers, establish Foxx as an R&B singer in his own right and, most importantly, re-introduce Marvin Gaye and Luther Vandross to the next generation.
15. "Rolling in the Deep" by Adele (2011)
Adele is a fact of life now, but once upon a time she was just another talented buzz act from Britain. When she belted "we could have had it aaaaaall!" on record, she catapulted herself into the stratosphere, bringing real instruments back to the top of the charts for the first time in way too long.
16. "Royals" by Lorde (2013)
With three other divas putting out radio-ready megahits around the same time (P!nk's "Just Give Me A Reason," Miley Cyrus' "Wrecking Ball," Katy Perry's "Roar") nobody could have predicted that a 16-year-old from New Zealand would spend the most time out of any at No. 1.
The teen brunette earned her coronation and then some. All that with a song whose refrain goes "and we'll never be royals."
17. "Happy" by Pharrell Williams (2014)
Music at the top has been getting darker and darker these days. A recent study identified "pain" and "desperation" as two of the three themes that best characterize No. 1 hits in the new millennium. And the most recent ones have been titled "Wrecking Ball," "The Monster," "Timber" and "Dark Horse," for god's sake.
Maybe that's why we've all become so devoted to "Happy." Pharrell's burst of joyous energy — written for an animated kid's movie — is a completely surprising, but refreshing, presence at No. 1.
It's a song, like many of the above, that we didn't know we needed until we couldn't live without it.