This Travel Company Is Trying to Get Denmark to Have More Sex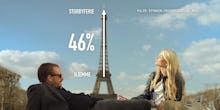 Sex: One Danish travel company wants the Danes to have more of it. In its hilarious but oh-so-serious ad campaign "Do It For Denmark," the travel package agency Spies Rejser is proposing a new solution to Denmark's low birthrate. 
"Can sex save Denmark's future?"
That's the question the cheeky campaign, featuring a young woman and her beau, asks. On a couple's vacation in Europe, they enjoy romantic picnics in front of the Eiffel Tower and exchange flirtatious glances over a candlelit dinner. Soon enough, they're clawing at each other in a hotel room. 
The campaign claims that 10% of all Danish children are conceived on holidays. Without a solution from the government, the economy or nature, Spies Rejser claims that taking more vacations can help solve the problem.
This is the same company that previously launched a video called "Lack of Sun Causes Smaller Testicles," encouraging couples to take mid-winter travel vacations. According to a sex therapist in the "Do It for Denmark" video, Danes have 46% more sex on holiday.
Denmark's birthrate is significantly lower than the rest of the world's. Some see this as an economic problem, while others claim it helps combat overpopulation. One thing we can all agree on is that a travel discount is always good. 
If pheromones or even saving the country isn't enough incentive for the Danes, the company is also giving out an "ovulation discount." Heterosexual couples supply the last date of the woman's menstrual cycle and the company generates a list of days when the woman is most fertile. Book a trip to one of several European cities during one of these days and receive a sizeable discount. 
If a couple conceives a child during their trip, they could win a three-year supply of baby products and another vacation.
Denmark isn't the only country attempting to bring up its birthrate by encouraging citizens to get down and dirty. Last year R&B crooners Boyz II Men performed the night before Valentine's Day in Moscow. The concert was thought to be a part of President Vladimir Putin's wider campaign to encourage Russians to have children. Both Singapore and South Korea have used suggestive and patriotic songs to encourage their citizens to get busy. 
Will "Do It For Denmark?" be successful? We'll have to wait about nine months to tell.