UN Orders Japan to End Its Terrible Whale Hunting Program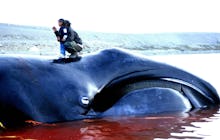 The United Nations isn't buying Tokyo's claim that its whaling hunting program is for "scientific research" as previously claimed. In a statement that was not well received, the UN's International Court of Justice ruled on Monday that Japan must stop its whaling program in the Antarctic. 
"Japan shall revoke any existent authorization, permit or license granted in relation to JARPA II (research program) and refrain from granting any further permits," Judge Peter Tomka said in the ruling.
Japan has hunted over 10,000 whales since 1988, according to figures. The International Whale Protection Organization pegs the numbers higher, saying that fishermen in Japan kill up to 20,000 cetaceans (dolphins and whales) every year. 
Though Japan signed a moratorium the 1986 International Whaling Commission (IWC) moratorium, its whaling activity, the country has allowed it for scientific research. Whale meat is sold commercially throughout the country. 
Image Credit: Wikimedia
Other countries like Norway and Iceland rejected the ban altogether and continued commercial whaling. 
Seven of the 13 great whale species are considered endangered or vulnerable. 
Australia had previously tried to stop Japan's whaling practices, filing a legal document against the country in 2010. Japan rejected the efforts, claiming it an attempt to change their culture. Monday's ruling says the judges agree with Australia's claim. 
An image of hunted whales for Japanese "whale research."
Image Credit: Wikimedia
Pete Bethune, a former activist with the Sea Shepherd Conservation Society, a militant environmental group, and spent five months in a Japanese prison for his protests was emotional after the ruling. 
"Today is a great day for justice,"  Bethune said at the court, according to Discovery News. 
Japan said it "regrets and is deeply disappointed by the decision," but it would abide by the ruling.