Frustrated By the Job Search, One Designer Devised a Solution to Showcase Her Creativity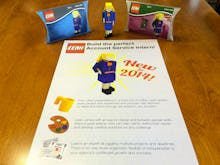 Leah Bowman, a communications student at Northwestern University, was tired of not hearing back from employers.
"Looking for a job can be a bit frustrating at times," Bowman told Mashable. "I've applied for dozens of jobs and had a handful of interviews, but sometimes there's just another candidate that edged you out. I know I'd be a great addition to any team, but I needed a better way to communicate that rather than just sending in a boring resume."
Bowman decided that to stand out amongst the pile of resumes, she needed to do something creative in order to grab her pick of advertising firms. So, Bowman made a Lego version of herself using the Lego Digital Designer and sent the Lego-themed advertisement to her prospective employers instead of a resume.
Bowman's resume, titled "Build the perfect Account Service intern," shows off her graphic design skills and creativity. It also shows her personality, which can be difficult to capture in the format of a standard resumes.
Her efforts were not unrecognized, and Bowman's Lego application began appearing everywhere — even in a Danish newspaper.
For young people, sprucing up the traditional resume and cover letter is more necessary than ever.
A recent study conducted by researchers at the Center for Labor Market Studies at Northeastern University and the Brookings Institution reveals that teenagers ages 16 to 19 were nearly half as likely to have a job in 2011 as they were in 2000. The lead researcher of the study explained that the lack of job experience starting out makes it much harder to get hired later.
To get noticed in the crowd by reinventing yourself as a Lego block figurine or simply by posting a portfolio of your work online, it is crucial to brand yourself creativiely to get noticed — and hired.