Hilarious Campaign Signs Are Popping Up All Over Toronto — Here's Their Story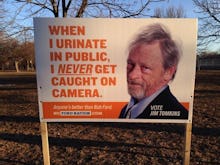 These awesome campaign signs mocking crack-smoking Toronto mayor Rob Ford are propping up all over the city in anticipation of upcoming mayoral elections — and they're hilarious. Here are a few of the signs, which highlight slightly less destructive mayoral alternatives, spotted on Twitter:
What??? Canada.com's Ishmael N. Daro reports that the satirical signs were created by NoFordNation, an advocacy group that complains that the mayor's bizarre habits and illegal activity (ranging from reckless driving to racist comments to being kicked out of a military ball for being too drunk) have soured the reputation of Canada's biggest city.
From the website:
For over three and a half years Rob Ford has been damaging our city's reputation. With the upcoming election we have a chance to turn things around by electing someone who is qualified to be our mayor. Our mission is to ensure that the next mayor is a genuine leader that can properly represent Toronto. It's up to voters to choose someone fit for the job.
The website also chronicles a laundry list of Rob Ford lies compiled by the Toronto Star, in which Mayor Ford has lied or misrepresented his record on just about every issue possible. There's, for example, the time he claimed the elimination of $200 million in car taxes somehow contributed to what he calls $1 billion in savings for the city. (That's actually revenue the city is losing.) Or there's the time he claimed to have created more jobs than any other Toronto mayor, ignoring the fact that two mayors from 1994-2003 both individually saw a larger rise in the number of employed Torontonians. Or the time he said a union deal would save the city $150 billion without explaining how.
To top it off, Ford was also caught on camera threatening to murder someone.
Good idea? While the campaign is funny, The Wire's Connor Simpson writes that the ads "are far from perfect. They serve no purpose beyond potentially dividing an already split electorate. If the anti-Ford factions splits too widely, the portly drunk will win yet another term and the nightmare will never end."
Counter-point: I don't live in Toronto, so where else am I going to see another slow-motion mayoral trainwreck? And anytime you're feeling down, just say to yourself: "At least I'm not Rob Ford."