A 75-Year-Old Woman Has Found the Most Powerful Way to Protest in Turkey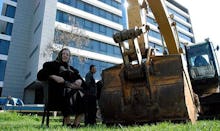 One determined woman has emerged successfully from an intolerant political climate that has blanketed Turkey in repression. Waging a decisively simple campaign against the destruction of a local park, 75-year-old Kiymet Peker set the tone for her municapilty's new political year. The message? At least in the neighborhood of Murat, Turkey's leaning towards authoritarianism has no place. 
Perched on a chair, Peker stationed herself in front of the bulldozer that was supposed to turn the local park into a commercial complex. She refused to move, saying that the park was an important place for the community and its children to play. Soon, a group of local protesters came to her side. 
"I won't let you demolish this park," the elderly woman said to construction workers, according to World Bulletin. 
The recently elected major Edirne Mayor Recep Gürkan ordered the end of the construction. "The park will not be demolished as long as I'm the mayor," Gürkan said.
This brave, uplifting story is a glimmer of light in a dark time for Turkish democracy. Earlier this month, the prime minister pulled the plug on Twitter and YouTube after evidence of a corruption scandal started to gain traction among angered citizens. The act of censorship came as press freedoms were further squashed under Erdogan rule, sparking arrests across the country. Earlier this week, in the wake of contentious local elections and allegations of fraud, police fired water cannons on protesters. The death of a 15-year-old boy who was killed in an anti-government protest shocked the country, discoloring the government's image even more. 
Image credit: AP Images
While the capital city of Ankara comes under mounting charges of corruption and repression, citizens in smaller towns are not sitting idly by. The story of 75-year-old Peker reveals that the struggle for democracy will be one that beckons even the most unlikely of political actors to the forefront.