100,000 People Are Protesting in Taiwan — and Their "Sunflower Movement" Is Strikingly Beautiful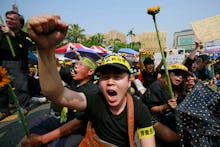 It's the age of protests, but the one brewing in Taiwan may be the most aesthetically pleasing of them all. Over 100,000 people took to the streets on Sunday to participate in the "sunflower movement," voicing their opposition to a controversial trade agreement between Taiwan and China. Here are a few photos that illustrate the movement:
1.
Protests began in March when Kuomintang, the ruling Chinese Nationalist Party, pushed a China trade pact through parliamentary review without opening it up for bipartisan debate.
2.
The pact will further economic integration between the two regions, with China opening 80 of its service sectors to Taiwan and Taiwan opening 64 sectors to China.
3.
But protesters believe that the negotiations were not transparent, and that the pact will allow China to wield more influence over Taiwan.
4.
The "sunflower movement" adopted the flower as its symbol because it represents hope, openness and positivity.
5.
A lot of the criticism has been directed towards Taiwanese president Ma Ying-jeou, who took office in 2008. He is depicted on the banner above.
6.
"I tell you once again, with a responsible attitude, that this is completely for the sake of Taiwan's economic future," Ma has said.
7.
The protest on Sunday was a family-friendly with affair with singers and street performers. There was an impromptu sing-along to "Do You Hear the People Sing," the revolutionary anthem from the musical Les Misérables.
8.
"We are not against a trade pact with China, nor closer business ties with China. What we are against is a lack of transparency. We want a negotiation process in which everyone sitting here will have a chance to take part," said Chen Wei-ting, one of the student leaders.
9.
Hundreds of students have stormed the parliament in the last couple of weeks, barring lawmakers from entering the building. Ma has offered to meet with the student leaders, but they have demanded that he must guarantee to not discipline politicians who support their cause.
10.
"Taiwan's democracy didn't come easy. I urged the students to respect the constitution, give the legislature back to the people," Ma said in a statement.
11.
Members of the opposition party have also staged a hunger strike to protest the pact.
12.
Relations between Taiwan and China significantly warmed since Ma took office, with leaders of the two countries meeting up for the first time since 1949.
13.
Taiwan is a self-governing, autonomous state, but China still considers it as its territory. The two governments have been separate for the past 60 years.
14.
Many of the country's Buddhists have sided with the protesters. Buddhist monks are also protesting the Chinese occupation of Tibet.
15.
Pro-Taiwan groups in other countries have staged similar protests in solidarity.