Two Pop Stars Play an Amazing Show — Despite Being 3,000 Miles Apart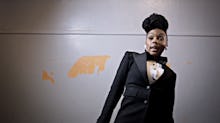 Last night, to celebrate the release of its new A3 sedan, Audi brought together two of the biggest female hip-hop/R&B artists — M.I.A. and Janelle Monáe — in one of the most epic concerts the world has ever seen.
There was one catch, though. Janelle Monáe was in NYC and M.I.A. was in in Los Angeles. And they performed together by hologram:
Turns out Monáe really is the Electric Lady. Thanks to the diligence of tons of technicians, each pop star's image was beamed across the country onto the other's stage resulting in a performance of two previously unheard duets. It was kind of like this:
It's an intriguing idea. And it wasn't even half as creepy or shocking as the holographic voodoo that brought Tupac back to life at Coachella in 2012, or the black magic that resurrected ODB at Rock the Bells 2012. This performance utilized a slightly different technology from those, which were digitally animated from scratch. According to a press release, the Monáe/M.I.A. duet, "utilizes 3D projection mapping to add layered depth of field perception with animated graphic content."
Essentially, the two had a full-body Skype.
Monáe and M.I.A. got together in person to practice a few times. Probably so they wouldn't, you know, laser each other in two.
But even though this is historic, holographic technology has been popping up in more and more places recently. Burberry held a runway show in Beijing in 2011 that featured holographic models beaming through one another as they swapped clothes.
A hologram Ronald Regan was even planned for debut at the 2012 Republican National Convention, but was put on hold because organizers felt he might upstage the actual flesh-and-blood candidate, Romney.
And Japan, ever the tech lover, has a full-on holographic anime character as its biggest pop sensation.
It's a weird world out there. But at least there's good music to help cope.