This is the Easiest Way to Learn a Language Yet — And All It Takes Is a Webcam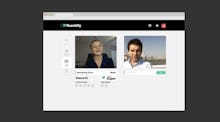 tWe've all been there: sitting through countless language classes, whether they were high school requirements or curious forays in college. Memorizing words? Done. Reading and writing? We got through it with some help.
But trying to speak coherently? That became a different story altogether.
The benefits of learning a language can't be dismissed. There are cognitive gains, it improves your English and can give you a leg up in the business world. Even Mark Zuckerberg is doing it. But when push comes to shove, you need to be capable of maintaining conversations with others — not simply recognizing popular words or phrases.
And considering our foreign language deficit in the United States — and the fact that these classes may be the first cut from school budgets — it's more important now than ever before to learn on our own. This is especially true as the business world gets increasingly interconnected with the ease of technology.
Fluentify is a webcam-based program that connects those who want to practice a foreign language with native speakers from around the world.
What's cool about the program is that it connects people with similar interests. For research purposes, I picked three interests when joining the site — business, travel and food/cinema — and got six recommended tutors ready for videoconferences with me. From there, you can schedule sessions.
For 30 minute sessions, tutors charge anywhere from $8 to $30, with 20% going to Fluentify as a service fee.
The idea is to replicate real-life conversations with others who have interests similar to yours. This way, you're not reading and memorizing out of a textbook, but actually having a conversation about what you read or like to eat. As a dual-speaker myself and having taken a couple semesters of a third in college, I've found that listening and speaking skills are the most important elements when you're learning.   
This is a tutor named Scott. He can help business people and student web developers learn French.
And here's Jill, who's teaching the mechanics, vocabulary and fluency of English.
The company recently closed a $410,000 angel investment and plans to use the funding to expand its services into southern Europe.