12 Real-Life Places You Can Travel That Look Like They're Straight Out of 'Game of Thrones'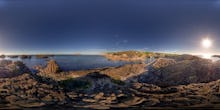 Last night's season premiere of Game of Thrones got us totally hyped, especially for the new characters and locations. While so much of Westeros and Essos looks totally unreal, there are places all over our world where Daenerys, Jon Snow and Tyrion would feel right at home. Let's have a look at some of the global destinations that would serve as pretty spot-on Game of Thrones backdrops. Plus you can visit them, and without worrying whether you'll lose a limb (or your head).
1. Dubrovnik, Croatia
Image Credit: Getty Images 
Dubrovnik is the principle filming location for King's Landing, and it is as magnificent as you would expect with an old, red-roofed city surrounded by 12th century stone walls and turrets at every angle. It isn't hard to imagine Sansa gazing longingly out to sea.
2. Cappadocia, Turkey
Image Credit: Getty Images 
With a long history, Cappadocia is full of insane geographic features like its iconic "fairy chimneys." A spiky place like Harrenhal doesn't seem so fantastical when you see this landscape. The popular brightly-colored hot air balloons in the region just add to the beautiful strangeness.
3. Lake Como, Italy
Image Credit: Blogspot 
Margaery Tyrell would feel right at home in this beautiful, luxurious landscape.
4. Wadi Rum, Jordan
Image Credit: Getty Images
Jordan's Wadi Rum, or Valley of the Moon, looks spectacularly Westerosi without any need for CGI or embellishments. Between the shockingly red desert and the Seven Pillars of Wisdom, a striking rock formation rising out of the flat land, it's easy to envision a fortress fit for the Mother of Dragons.
5. Neuschwanstein Castle, Germany
Image Credit: Getty Images
This stunning castle, rising out of the Bavarian forests, was built in the 19th century by "Mad King" Ludwig II, using all of his royal revenue. Surely Mad King Aerys Targaryen (or Joffrey!) could relate.
6. Mont Saint-Michel, France
Image Credit: Wikipedia 
Mont Saint-Michel in Normandy is accessible by land only during low tide. It's a natural defensive position the Greyjoys would lust for. 
7. Ice Canyon, Greenland
Image Credit: Getty Images 
Ygritte wouldn't blink at climbing up this icy wall. Would you?
8. Tiger's Nest, Bhutan
Image Credit: Getty Images 
According to legend, Guru Padmasambhava first reached this place by flying on the back of a tigress. The climb up the steep cliffside looks impossible from the bottom, but is amazing once you reach the top. Melisandre would appreciate the sanctity of this unreal place.
9. Petra, Jordan
Image Credit: Getty Images 
The 1st century B.C. monastery in the "lost city" of Petra is astoundingly mystical. Who needs a vault in Qarth when you have this imposing and tucked-away structure?
10. Taormina, Sicily
Hellooo Casterly Rock! We have yet to actually see the Lannisters' famed home on the show, but Taormina gives a decent picture of what it would look like. With a dramatic carved landscape right next to testy active volcano Mount Etna, Taormina is perched imposingly high above the sea. The ancient theater creates an aura of history and feeds into Tywin's valued concept of "legacy."
11. Phi Phi Islands, Thailand
Image Credit: Getty Images 
Rising out of the water, the Phi Phi Islands of Thailand are almost too wonderful to be true. We think Jon Snow would love a vacation to these beaches.
12. Paphos, Cyprus
Image Credit: Travel Guide 101
Between the guarded, minimalist medieval castle, the ancient Tombs of the Kings and mosaics, and the nearby alleged birthplace of Aphrodite, Paphos is basically a real-life Game of Thrones city, where the old gods meet the new and history is staunchly remembered.