Kim Jong-un Just Executed a Top Aide in a Way Fit Only For a James Bond Super Villain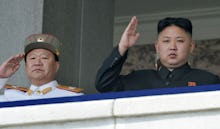 The news: In what sounds like something straight out of a James Bond movie, a North Korean man named O Sang-hon was executed by flamethrower.
O, who once served as deputy minister at the Ministry of Public Security, was one of 11 North Korean officials who were either executed or imprisoned last week. They were punished for their ties to Jang Song-taek, a high-ranking politician and Kim Jong-un's uncle. Jang and his family were executed a few months ago for treason, and the North Korean government has since been on a witch hunt to purge their supporters.
According to a source, "The reason for the horrific method [was] that he had turned the ministry into Jang's personal protection squad. O managed a bureau in the ministry as his personal security service and raised its status to the same rank as officials guarding leader Kim Jong-un."
The North Korean government has also reportedly made a list of 200 of Jang's supporters to execute; 1,000 of their family members are to be sent to concentration camps.
Image Credit: Getty
Not the first time: Kim's reputation as a brutal dictator has led to some exaggerated or fraudulent reports in the past. When news of Jang's execution first emerged, it was widely reported by mainstream media that he had been fed to a pack of feral dogs. That viral report turned out to be nothing more than satire, and it's certainly possible this is also the case with the story of O's gruesome death. Although it has been reported by reputable papers in South Korea, the North's tight-lipped regime makes independent confirmation impossible.
But even though Jang's death was misreported at first, all reports emerging from North Korea indicate that his relatives were executed in a bloodbath that could rival a Greek tragedy. "All relatives of the executed uncle of North Korean leader Kim Jong-un, including children and the country's ambassadors to Cuba and Malaysia, have also been put to death at the leader's instruction," Yonhap News reported in January. 
"The executions of Jang's relatives mean that no traces of him should be left," a source told the South Korean paper.
A cruel reputation: Politically motivated executions are far from the only human rights concern in North Korea. A UN commission found in February that the North Korean people had suffered "unspeakable atrocities" at the hands of its government. The commission's report detailed the prevalence of torture, religious and intellectual repression, indoctrination, state surveillance, starvation, public execution and mass internment in concentration camps.
"In many instances, the violations of human rights found by the commission constitute crimes against humanity," the report concluded, comparing North Korea to 20th century totalitarian regimes such as Nazi Germany. "The gravity, scale and nature of these violations reveal a state that does not have any parallel in the contemporary world," the report added.
Between 80,000 and 120,000 people are estimated to be detained in North Korea's four political prison camps.