Here's Why Venezuelan Protesters Are Getting Butt Naked on Twitter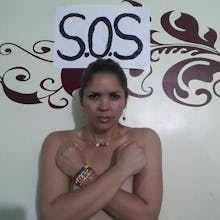 The news: If you follow any Venezuelan university students on Twitter, you may have noticed an unusual amount of nudity in your feed over the past few days:
("Better naked than humiliated and silenced by the violence in Venezuela")
("Better naked than on earth for nothing. Only for God…")
("I am the mother of one student. My support is to all. Long live the courageous students, heroes.")
Translations Courtesy of Al Jazeera
These photos — marked by the hashtag #MejorDesnudosQue, or "better naked than" — are part of a solidarity campaign sparked by the stripping and beating of a young college student in Caracas on Friday. According to Al Jazeera, masked assailants entered the Central University of Venezuela (UCV) during a rally and began assaulting anti-government protesters.
The students had planned to march from the school but ended up clashing with riot police who were sent to stop them:
("Gangsters in Uniforms")
Translation Courtesy of Al Jazeera
The video below documents the incident (WARNING: graphic images):
The Los Angeles Times reports that Victor Marquez, president of the school's faculty association, has repeatedly called on President Nicolas Maduro to help protect these students from such attacks. He claims that "motorcycle-riding vigilantes" have "invaded" the campus — which has become a rallying center for the anti-government movement — at least 10 times since protests began sweeping Venezuela in early February.
Beating and stripping seems to be the pattern linking these incursions: On March 14, a group of 16 masked men entered the science building and started indiscriminately clobbering students. Five days later, another group raided the architecture building, forcing several students to disrobe before beating and robbing them.
UCV is the largest university in the country and has its own police force. But so far, officers have given very few shits about actually protecting students, to paraphrase Marquez.
Backlash: The #MejorDesnudosQue campaign has prompted unsurprising criticism from both pro-government tweeters and others skeptical of its methods:
("The opposition in this country is embarrassing on a world level!")
Image Credit: Al Jazeera
("First these idiots fight for Venezuela, now they strip for solidarity. Truly this opposition has no ideas and is exhibitionist")
("This campaign of Naked with the UCV is mockery, it hurts.")
Translations Courtesy of Al Jazeera
The wisdom of rocking your birthday suit to make a political point has been questioned many times, from PETA's anti-fur campaigns to FEMEN's (NSFW) bare-breasted brand of feminism. Some argue that doing so merely produces titillation and draws attention away from the actual political point — at worse giving voyeuristic pleasure to the oppressors and wrong-doers themselves.
In this particular case, it helps that the campaign is responding to an incident where the humiliation of forced nudity plays a central role. By standing in butt-naked solidarity with the victim, protesters are putting a noble and martyr-like spin on his experience.
Background: PolicyMic's Matt Essert writes that Venezuela's ongoing protests were first prompted by Maduro's severe government mismanagement. Since succeeding the late Hugo Chavez, Maduro has "[run] the country into the ground" by adding a 56% inflation rate and a 50% budget deficit increase to an already fraught state of affairs — a person is murdered in Venezuela every 21 minutes, leading to 24,700 violent deaths in 2013.
The president blames the "parasitic bourgeoisie"" and U.S.-backed "fascists" for the nation's problems, but his increasingly brutal crackdowns on free speech and dissent aren't winning him any popularity points.
In short, what a mess. Hopefully the people of Venezuela find peace sooner rather than later.