What Nirvana Sounds Like When Four of Music's Strongest Women Replace Kurt Cobain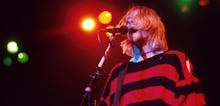 Nirvana was inducted into the Rock and Roll Hall of Fame on Thursday night. The two remaining members of the band — Dave Grohl and Krist Novoselic — reunited to play his music. But nobody knew who would replace Cobain.
Fans came missing Cobain, dead for 20 years now. And then they got Lorde, Joan Jett, St. Vincent and Kim Gordon (Sonic Youth) standing in for him. In keeping with Cobain's strong feminist politics, Nirvana became the backing band for rock and roll's greatest female artists. And it was amazing.
Each artist showcased a different side of the legend. Lorde, singing "All Apologies," was a painful reminder of his youth — a new teen spirit:
St. Vincent with her blown-out white hair ripped into "Lithium" with all the weirdness Cobain ever mustered:
A video of Kim Gordon isn't available, but Sonic Youth is well in keeping with Nirvana's alt. legacy. It was Joan Jett, though, one of the most iconic female rockers ever, who took on Cobain's harder rock side on "Smells Like Teen Spirit." She was the only one anticipated to be performing, based off the following picture from the Foo Fighters' Instagram (that's her ripped up Melody Maker in the middle):
The stickers on her guitar are a perfect introduction to Jett, and to Cobain's own feminist politics: "Girls kick," "Fetish" (a song/album by Joan Jett and the Blackhearts) and two pink female figures standing side by side under the strings. Alongside Patti Smith, Jett remains one of the most badass feminist icons rock 'n' roll has ever seen. Jett was a dominant force in '80s rock ("I Love Rock and Roll"). All anybody needs is the rallying snarl on "Bad Reputation" to get what she's all about: "A girl can do what she wants to do / And that's what I'm gonna do."
She was more than equipped to handle the screams on "Smells Like Teen Spirit":
If Cobain could have chosen any singers, these would've been the ones. In high school Cobain had trouble making male friends. He found it much easier to hang out with girls. He saw the way women weren't treated with "respect" and were "totally oppressed," and that anger followed him his whole life. He thought male rockers like Robert Plant of Led Zeppelin and Steven Tyler from Aerosmith were sexist and shallow. He wanted rockers like Lorde, St. Vincent and Jett. After the show, the whole group retreated to a tiny Brooklyn metal club to play into the night.
This is his legacy in rock — youth, weirdness, brute force and a respect for all people, regardless of age or gender. It has been 20 years since Kurt Cobain's death. In his suicide note, he quoted Neil Young: "It's better to burn out than it is to fade." In the past 20 years, he hasn't faded at all.