The IMF Released its Economic Forecast, and It's Looking Surprisingly Good for America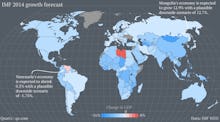 The International Monetary Fund just released its latest installment of the World Economic Outlook, hoping to forecast the growth and risks of the global economy. Like any good international organization report, it's very long and somewhat vague (though an executive summary is available), but there's some good news and some bad news. 
The good news is we're most likely still due for a modest growth rate of 3.6%. The bad news is that there's still a lot of problems. Specifically, recovery from the economic crash of the past few years remains anemic, and the global economy remains vulnerable to shocks from geopolitical crises (like the Ukraine-Russia conflict) and structural issues (like borrowing costs and pressures to keep down inflation). All this led the IMF to set the 3.6% growth rate, downgraded from Janurary's 3.7% prediction. 
The forecast and worst-case scenarios are seen below. The forecast assumes the world holds steady to the IMF prediction, while the worst case factors in risks like the 20% chance of economic shrinkage in Europe and Japan. In that disaster scenario, growth will be just 2.4%, close to the 2% cutoff point that the IMF says would constitute a global recession.
Image Credit: Quartz
There are clear winners and losers, and the revised forecast has seen some sharp revisions to certain countries. From the Wall Street Journal (subscription required), the differences are particularly stark for Russia:
The best news for Americans is that growth has picked back up. "There are no brakes on U.S. growth," said IMF chief economist Olivier Blanchard. "It's an economy that is fundamentally robust." Of course, whether those gains are equitably shared with a majority of Americans is another story.
The IMF is advising the European Central Bank and the Bank of Japan to combat low inflation, which is providing price stability at the cost of growth. Countries like Greece and Portugal suffering from massive unemployment have been facing deflation, driving up debt levels. Japan has been downgraded from 1.7% to 1.4% growth.
Furthermore, major emerging markets like China still are experiencing robust growth and will fare well even in the worst-case scenario, with 7.5% growth projected for both 2014 and 2015.
As Quartz points out, the worst-case scenario does come with an inverse super-optimistic IMF-projected scenario in which the world's wealth grows by 5% in 2014. In which case, ice cream for everyone!