The 9 Real Country Music Stars of Our Generation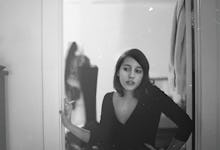 At the recent Academy of Country Music awards, it was apparent that something bad is happening to modern country music.
Luke Bryan, the man responsible for recent mega-hit Spring Break 6 (that's right, he's made many spring break records), was nominated for Entertainer of the Year and Male Vocalist of the Year. His album Crash My Party (not to be confused with Spring Break), was nominated for Album of the Year. Meanwhile, Vocal Duo of the Year went to Florida Georgia Line, the group responsible for "Cruise" (which is more of an algorithm than it is a song). And somewhere off-screen, the ghost of Johnny Cash sighed a long, heavy sigh. Somewhere between Folsom Prison and all those dirt roads with the girls in painted-on jeans in the moonlight, country music got taken over by bros.
But there's a part of the country world most people haven't heard — a young part where some of the world's best songwriters are creating something that's respectful of their forefathers but still fresh. Here are nine young country artists keeping country alive.
1. Nikki Lane
Nikki Lane's raspy coo and stone-cold delivery have already earned her a spot on both Vogue's "Artist of the Week" and CMT's "Next Women of Country."
She's like the ultimate indie retro act, only for her, it isn't an act. The driving backbeat and volume swells behind most of her songs create a timeless-sounding momentum. Lane encompasses honky-tonk, rock and folk with a raw, inexhaustible energy that's going to take her straight to the top.
2. Caitlin Rose
Bars from Seattle to Miami seem to come pre-stocked with a barstool guitar player, huddled next a mic in the corner, singing unknown originals that no one in the audience can tap a foot to. But sometimes all those crummy musical nights yields someone like Caitlin Rose, and all the bad acts are worth it.
Her musical genius is gaining her wild recognition. She earned a spot on Time Magazine's yearly Top Ten Albums list in 2011.
Saving Country Music said her songs "claw mercilessly at your empathy." Rose breathes fresh air into a scene long written off as stale through the clarity of her vocal work and her brilliant, simple lyrics. She's also got some major indie cred — she even recorded a cover of The National.
3. Shovels & Rope
Take the drive and dirt of good ol' country, then strip it down until it's shivering and naked. That's what Shovels & Rope sounds like. Their music is beautifully raw, landing them with multiple nominations at the 2014 Americana Honors & Awards in the "Album of the Year," "Song of the Year," "Duo/Group of the Year" and "Emerging Artist of the Year" categories, to name a few. They were also written up in the New Yorker and featured on HBO's True Blood.
As a duo, their songs display an amazing range. From driving waltz to the tempting pushiness of bands triple their number, these two know how to incorporate a splash of White Stripes rock with a touch of folk into a double shot of country. 
4. Cale Tyson
With American Songwriter premiering his seven-track EP and his band opening for country legend Dwight Yoakum, Cale Tyson's High on Lonesome is one of the biggest breakout releases in modern country music. He's a fresh voice and a fresher face, but this music is eternal.
Tyson and his crew handle the musical reins with ease, while his lyrics leave you smelling whisky and feeling a dusty heartache. Tyson harnesses the classic sound of old-time country, but his vocal arrangements impeccably capture a new and exciting perspective, bringing almost an R&B-esque groove to the country genre.
Each song is the work of a craftsman who knows his trade, and Tyson offers a glimpse into the future of country music classics.
5. Andrew Combs
This man has earned sweeping recognition for the vibrance and ferocity of his sound. His EP Worried Man ranked 29th on American Songwriter Magazine's annual list of 50 Best Albums of the Year in 2012. Not bad for 27 years old.
Andrew Combs has been playing a critical role in the resurgence of the folk-infused country scene, with lyrics that center around the hardships of solitude. Through his lonesome ballads and pure melodies, Combs is a dusty, country soul for 20-somethings.
6. Kelsey Waldon
With an authenticity that demands attention, it's easy to understand why CMT Edge named Kelsey Waldon's performance at the 2013 SXSW to their "Top 10 SXSW Moments."
This Kentucky native knows her range. Already stacked with a good band of reputable fiddle, pedal steel and guitar players, Waldon flirts with the depth and height of her vocal abilities with a brashness you don't often hear on someone so young. This is a girl who's not trying to be anyone but herself. And her honesty and boldness is making her the emerging face of country feminism. 
7. JP Harris & the Tough Choices
Most of the time, honky-tonk music is reserved for the bars on Broadway in Nashville. But sometimes a band like JP Harris & the Tough Choices reminds of just why this music is great. They bring all the looseness and joy of a live honky-tonk show to their records, and that's what's landed them a Honky Tonk Group finalist spot at the 2014 Ameripolitan Music Awards, an awards show meant to refocus the country music genre away from Nashville pop.
Brash and smooth, polished and grimy, with a splash of tumultuous arrogance, Harris is forcing Generation Y to admit this genre is still badass.
8. Sturgill Simpson
Recently, Sturgill Simpson got the kind of honor young country musicians just don't get: Rolling Stone named him one of their 10 artists to watch. Then they compared him to Merle Haggard. All this after he was named "Artist of the Year" by Saving Country Music. Sturgill Simpson is the indie country singer who can finally join those two worlds.
With fiery guitar skills to back up his forceful voice, Simpson presents rock-infused country that pushes beyond easily-digested pop country. His catchy, easy-listening melodies mask the depth and dynamism of his lyrics. If anyone can bridge the gap between real country and mainstream country, it's Simpson.
9. Caroline Spence
This gal was awarded the 2013 Best Lyrics Award from American Songwriter for the lyrics to her beautiful single "Mint Condition." Caroline Spence then spent a session collaborating with Grammy-nominated artist Lee Brice. Not a bad day for a 24-year-old.
Spence writes with an authority beyond her years, crafting indelible phrases of heartbreak and longing. She has a rugged, sweet soprano and a heart-tugging delivery. She's the kind of act who'll make you nostalgic, even if you aren't sure for what. That's because she sounds timeless.