The Next Global Party Anthem Comes From An Aboriginal Group Shattering Music Stereotypes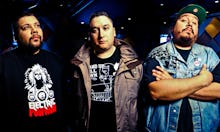 The day you first hear A Tribe Called Red is a day you won't forget.
Part of it is their singularity: NDN, Shub and Bear Witness form a three-member DJ crew manned entirely by Aboriginal Canadians. But what truly sets them apart is their music. It's an infectious fusion of native chants and pulsing EDM beats that's drawn praise from the likes of Diplo, sold out shows around the world and, most recently, earned them a Juno — the Canadian Grammy — for 2014's Breakthrough Group of the Year.
Not that anyone's counting.
Yet for all intents and purposes, their ascent is just beginning. A passionate fan base has yet to translate into the widespread appreciation they deserve, a fact bound to change as their catalog expands and renown grows. So consider "Sisters," their latest single, a calling card of sorts, the moment when they truly and definitively plant their flag in the dirt.
Check out the video below. Do yourself a favor and crank the volume as high as possible:
As that beat snakes into your permanent rotation, consider the symbolic importance of A Tribe Called Red. "This award doesn't belong to us, it belongs to all of us," said Ian "DJ NDN" Campeau of the group's Juno win. "This moment right here is a perfect example that Aboriginal youth can excel and achieve any goal that they could ever want. Anything is possible. They can do whatever they want and we're proof of that."
In recent years, Aboriginal artists have earned increasing accolades for their musical contributions throughout North America. Emcee and powwow fancy dancer SupaMan is putting Native hip-hop on the map in the States, while rap crews like City Natives are adding their distinct flavor to the Canadian scene. Red continues carving out its own space in EDM, and taken in conjunction, these artists have the potential to spark a widespread cultural revolution.
That's not to say barriers don't exist. In addition to the devastating social inequalities indigenous people face in both countries, Red has had to deal with an increasingly problematic fan phenomenon: people in headdresses and face paint at their shows.
"It was a trend that started before we were touring or making albums," says Campeau. "But now that we're touring more and playing more festivals, we're starting to see them more, unfortunately."
He explains that this is especially offensive because it ignores indigenous people's unique identities, characterizing them instead as a monolithic whole: "It's creating a false idea of what it means to be Indigenous today ... It's robbing the First Nations of their nationhoods and nationality ... [and] making us all 'Indian' instead of recognizing me as an Anishnabe or Ojibway."
Image Credit: A Tribe Called Red
This has the added effect of characterizing Natives as ghosts of a bygone era, a stereotype they must constantly combat: "If you were to think of an 'Indian,' you certainly aren't going to think of me tattooed in a hoodie with a Sens cap on. We, as First Nation people, have never had control of our image in colonial media since its birth."
These are just some of the issues bound to see daylight as Indigenous artists continue gaining popularity. But their success also provides an opportunity to foster dialogue and understanding around the challenges they face. A Tribe Called Red's prominence is exciting. And considering their undeniable talent, a celebrated long-term future seems undeniable for both them and their contemporaries.
All I can say is, it's about time. The sooner these indigenous artists become permanent fixtures of our pop culture vocabulary, the richer our musical culture will be.