The New Most Sought-After College in America Isn't an Ivy League School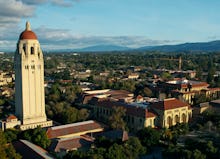 For three-and-a-half centuries, the American academic landscape has been dominated by the Ivy League. The East Coast institutions have been long considered the most elite and prestigious universities in the country and in the world. But now, a long-time challenger has officially unseated these schools to become the most sought-after college in America: Stanford.
The California school has now become more selective than its East Coast rival, Harvard. Stanford had an 8.6% increase in applications this year, receiving 8,000 more than Harvard. Its preliminary acceptance rate is now 5.1% — a national and a historical low. In comparison, Harvard had a 2.1% decrease in applications and ended up accepting 5.9% of applicants.
A recent survey by Princeton Review also reflected this trend, revealing that Stanford has become the top choice school among both prospective students and their parents. Harvard fell to second place in both categories.
Image Credit: Princeton Review
Why is Stanford becoming so popular? Much of Stanford's growing prominence and popularity can be traced to the rise of Silicon Valley. Stanford's proximity to Palo Alto, the prestige of its science programs and the wild success of its alumni in the tech world — founding Yahoo, Google, LinkedIn, Snapchat and more — has made the school the top choice among young entrepreneurs and techies.
And the increasing allure of the tech world isn't only limited to undergraduates either. Across the country, more and more business students are opting to go into tech rather than finance. At the Stanford Graduate School of Business in 2013, 32% chose to go into tech jobs while only 26% went into finance. By comparison in 2013, at Harvard Business School 18% of graduates chose tech jobs (up from 12% in 2012) while 27% went into finance (down from 35% in 2012).
The verdict is clear: As the West Coast tech scene becomes more and more attractive than the East Coast finance scene, the traditional locus of academic power is shifting across the country as well.
Should the Ivies be worried? Not really. Across the board, the elite institutions in the United States had one of their most competitive years ever. Acceptance rates at these universities keep dropping because high schoolers — especially those from overseas — are applying to more and more schools, which drives up application numbers. But the fact is that there is a limited amount of students who are qualified to attend these colleges, so Harvard and Yale do not need to worry that Stanford is suddenly taking all the best applicants in the country.