Satellite Images Show Russian Jets and Special Forces Massed At Ukraine's Border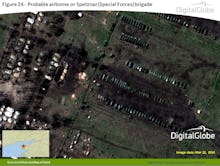 As armed protesters are demanding secession from the country and annexation by Russia, eastern regions of Ukraine are still far from stable. A people's republic has been declared in the city of Donetsk, although its territory is so far limited to a single 11-story building. Hundreds of protesters have also been similarly seizing government buildings and calling for independence in Kharkiv and Luhansk. 
So ... things aren't great. 
What hasn't been helping the situation is that despite international calls for withdrawal, Russian forces remain on the border with Ukraine. On Thursday, NATO Secretary-General Anders Fogh Rasmussen said that 40,000 Russian troops remain in the area "not training but ready for combat."
"I have this message to Russia: You have a choice to stop blaming others for your own actions, to stop massing your troops, to stop escalating this crisis and start engaging in a genuine dialogue," Rasmussen said. "If Russia is serious about a dialogue, the first step should be to pull back its troops."
NATO also released satellite images of Russian forces amassed around the Ukrainian border, making the point they could invade within 12 hours of an order from Moscow.
Image Credit: AP Photo/DigitalGlobe via SHAPE
The image above was taken on Mar. 27 and depicts what is reported to be a Russian artillery battalion at a military base near Novocherkassk, which is roughly 160 miles from Donetsk.
Image Credit: AP Photo/DigitalGlobe via SHAPE
This image purportedly shows Russian military tanks and infantry fighting vehicles at a base near Kuzminka, which is about 115 miles from Donetsk.
Image Credit: AP Photo/DigitalGlobe via SHAPE
This image reportedly shows a Russian military airborne brigade at Yeysk, near the sea of Azov in southern Russia.
"We have seen the satellite images day after day. Russia is stirring up ethnic tensions in eastern Ukraine and provoking unrest. And Russia is using its military might to dictate that Ukraine should become a federal, neutral state. That is a decision which only Ukraine as a sovereign state can make," Rasmussen said.
NATO has increased surveillance flights over Romania and Poland as well as air policing aircraft. The U.S. has also sent a warship to the Black Sea to hold exercises.
"He said," "she said." Though regional tension continues to rise, the Russian government maintains that its troops are holding regular exercises at the on the Ukrainian border. It has also accused NATO of releasing old pictures from last year, which satellite company DigitalGlobe denied.
"The United States and Ukraine have no reason to be worried," the foreign ministry said in a statement. "Russia has stated many times that it is not carrying out any unusual or unplanned activity on its territory near the border with Ukraine that would be of military significance."
Russia deputy defense minister Anatoly Antonov has also accused NATO of waging a "harsh, uncompromising information war" against his country. "We see what NATO is doing in Ukraine to prevent them from normalizing ties with us. Horror stories about the Russian armed forces are being spread," he said.
Whether or not Russia has any actual plans to take over eastern Ukraine, one thing is clear: Its heavy military presence on the border is far from helpful or neighborly right now. All sides could benefit right now from a de-escalation of rhetoric and tension, and if Russia wants to demonstrate its goodwill, it can start by pulling back some troops.