15 Photos of Children Paint a Vibrant Picture of the Places Most New Yorkers Never See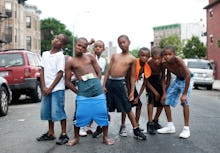 These images are the work of Chris Arnade, 48, who quit his 20-year job as a Wall Street banker a few years ago to explore the world just outside Manhattan. He started to photograph people in New York's most challenged areas, such as the South Bronx, which is the country's poorest congressional district. Just a 10-minute subway ride from the dwellings of Manhattan's millionaires, 1 in 3 people live below the poverty line. 
Below are a few of Arnade's photographs of children inheriting and growing up in some of these neighborhoods. His captions are beneath. 
"Cousins, Hunts Point. It's hard to capture the diversity and energy of Hunts Point. While I was taking this picture there was an open air mass going on, blasting religious music and a sermon from an alley between two houses. There was about 20 kids playing basketball at [a] makeshift court on the street. There was three drug dealers looming, working the streets. There was Michael and Pepsi, addicts trying to move their stuff from the house they where evicted from. There was another group of kids zooming down the hill on their bikes. There was five or six motorcycles barreling around popping wheelies, uncaring about anyone else. Then, like always, there where two or three groups having an outdoor cookout. Oh, and one cop car circling slowly. Then there was these two cousins who very politely and shyly asked to have their picture taken; a frozen moment that does not capture the din surrounding it."
"Jose & Friends: Hunts Point, Bronx. Is there more joy than four kids tumbling underneath the Bruckner?"
"Delon: Bushwick, Brooklyn. Delon spends time on his Uncle Luis' roof, helping with the pigeons. He says he used to be mostly a snake and lizard kid, but is now becoming a pigeon guy, like his uncle. His uncle taught him how to catch and hold a pigeon recently, so he had to show me."
"Chelsea (Juliet) and Brandon (Romeo): Hunts Point, Bronx. [The] Hunts Point Children's Shakespeare Ensemble spend all year preparing one play. This year it is 'Romeo and Juliet.' The kids start in fourth grade and carry on until sixth. Older students, who complete the program, then write and perform their own plays with The Storefront Ensemble. The program is run by Hunts Point Alliance for Children (HPAC) and The Shakespeare Society. For many of the children this is the first time they are respected enough to be challenged. Most local middle schools don't have the resources to offer such extracurricular activities."
"Street Surfing: East New York, Brooklyn. It was close to 100 today so the hydrants were open. These kids had laid a plank in front of the spout and were 'street surfing.' That and trying to charge passing cars 75 cent[s] for a wash. As a business man I suggested they aim for the paper money and charge a dollar. Ty-Shawn, Jaquan, Nahjee, and Dallas (I wrote it down) jumped at the chance for a picture. Now I have to bring back four copies of this picture and a Barbados flag (Dallas), a copy of the picture with sparkles (Nahjee), fruit soda (Jaquan) and a toy gun (Ty-Shawn). Got it."
"Playing Skully: Brownsville, Brooklyn. There is a roughly eight square block neighborhood that has the worst crime statistics in New York, and with it the highest number of 'Stop and Frisk' by police. It's centered around Rockaway and Blake [Avenues] in the heart of Brownsville. I have been spending more of my time there walking around, getting to know the area. It's where I found these kids playing 'Skully,' a game involving plastic juice tops filled with colored putty and a grid of 13 blocks hand drawn on the sidewalk. Something of a mixture of marbles and shuffleboard, players have to advance their piece through the 13 different blocks; of course knocking the other players' pieces out of bounds is half the battle. They asked me to play, but I couldn't figure it out. I asked if money was on the line, but no, just 'bragging rights.'"
"Damian and Wayne 2: Point Morris, Bronx. Its rare I post two pictures of the same people, but with these best friends, residents at the local homeless shelter, I really couldn't help myself. In these tougher neighborhoods childhood innocence can be lost quickly, although its often there, just hidden below a tough exterior of self defense. Here is the prior picture, with a bit of back story: Damian and Wayne."
"Young Boys: East New York, Brooklyn. Every time I come to this part of East New York this group of kids comes running towards my car, asking to have their picture taken. The dialogue goes like this: 'Take our picture Mr. photographer, and give us some money.' 'Ha, no thanks. Why you think I would give you money?' 'Because you're rich.' 'Why you think that?' 'Because you're white and got a big ass camera.' This time the boy in the white t-shirt then interjected. 'He can't be that white if he's here!'"
"Isador: Hunts Point, Bronx. Isador was playing ball on the street while I was doing a photo shoot. A huge Yankees fan, shortstop for his little league team, when asked who is favorite player is he said, 'Derek Jeter! Do you really need to ask me that?'"
"It was close to 100 yesterday, so all the hydrants were open, with families keeping cool. These two boys, best friends, insisted on being photographed together."
"Astrid and Eileen: Hunts Point, Bronx. Astrid and Eileen were walking home with their parents, coming from a church party, when they stopped at the corner. Their father is from Guatemala, their mother from Honduras. The parents spoke little English but were very happy to have their two daughters' picture taken. At the same corner three young prostitutes were actively looking for Johns. The prostitution in Hunts Point is not confined to some dark corner, or some industrial region. It takes place on some of the busiest residential streets. The pimps and girls walk up and down the main streets, from sunset til sunrise. If you spend any time in the neighborhood, or like Astrid and Eileen, you live there, prostitutes, pimps, addicts, drug dealers and police are a constant presence."
"Patience and Allan: Bushwick, Brooklyn. Sister and brother ... They both approached the camera in such a different way."
"Chai-Nea again: Port Morris, Bronx. I have posted a picture of Chai-Nea before here, Chai-Nea, but I think she deserves two. She was playing in the water hydrant with her sisters and her friends, the photogenic Damian and Wayne. All the kids live with their mothers in the homeless shelter in Point Morris."
"Rayquawn: Hunts Point, Bronx. More of the kids of the Hunts Point Alliance for Children. Rayquawn is a big sports fan and wanted to be photographed on the mound of the Rec center. The last time I took a picture of a pitcher was this man: Mudcat Grant. Funny, they both struck the same pose. Must be something about pitchers."
"Jose really is amazing: Hunts Point, Bronx. Jose surprises folks leaving the subway station in Hunts Point. Check out more of Jose here: Jose the amazing. More from Hunts Point here: Hunts Point."
***
Contact or tweet me with any questions or feedback.