Anderson Cooper Shows Exactly How to Respond to an Anti-Gay Colleague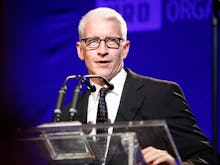 We all know CNN anchor Anderson Cooper has a good sense of humor. But the journalist and LGBT advocate put his sarcastic wit to good use with this rather impressive one-tweet knockdown of an anti-gay colleague's tweet.  
The epic online interaction resulted after Cooper sent out a tweet last week supporting Derrick Gordon, the first NCAA Division I basketball player to come out as gay. The tweet received many congratulatory mentions, and one not-so-celebratory one. Canadian journalist Damian Goddard clearly did not approve, claiming Cooper's tweet proved he was "dead wrong about homosexuality."
Turns out, Goddard messed with the wrong guy. Ever since coming out publicly in 2012, Cooper has received sporadic anti-gay backlash on social media, but the star-powered journalist rarely responds. This time, however, he clearly felt it was important to stand strong with a young athlete who had shown so much courage.
Cooper's reply to Goddard, a devout Roman Catholic who hosts a faith-based show on web-based Ignite TV in Canada, got over than 1,500 retweets. 
Image Credit: Twitter
Similarly, Ellen Page had also taken to Twitter to respond to a homophobic pastor's advice to her. And when a sports fan called Major League Soccer player Mike Magee a "faggot" for missing a penalty last week, he replied with a photo of "Love is Louder" written on his palm. 
In the case of Magee, the fan apparently learned his lesson and apologized to Magee, but it's unlikely Goddard will change his tune. Goddard has a history of anti-gay activism. As a sports broadcaster for almost two decades, his career was derailed by a string of offensive tweets. And Goodard wears this badge: "Former Rogers Sportsnet anchor fired for tweeting support of marriage," on his Twitter profile.  
No word yet on whether he'll consider buying a new tie and pocket square combo.