Beyoncé Dancing With Solange at Coachella Is an Adorable Ode to Sisterhood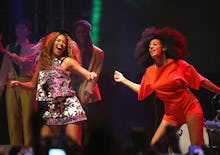 Beyoncé made a surprise appearance at Coachella this weekend, when she joined her little sis Solange onstage to dance along to her song "Losing You." The music was good; the sisterly love was even better. The crowd, understandably, went nuts.
This was great, and not just because Solange and Bey are fantastic performers who look like they're having the time of their lives. Two wildly successful, powerful women — both of whom have outspoken feminist leanings, no less — supporting each other by rocking out onstage together? More of this, please.
In the past, the media has divided people into Bey vs. Solange camps, but it's clear that these two are on the same, goofy dancing team. While Solange may not be as big a star as her sister is (yet), they have different goals and musicality. Beyoncé has had more mainstream success, but the younger Knowles has plenty of indie cred (look no further than her Dirty Projectors cover or the fact that she's been deemed "superb" by Pitchfork). By the looks of it, the two are more concerned with supporting each other's careers than one-upmanship.
After the performance, Solange gave a sweet shout-out as her sis left the stage: "Give it up for my favorite dancing partner, my favorite person in the world, my sister Beyoncé." So much for sibling rivalry.
Public displays of sisterhood are important, whether the women involved are related or not. The media likes to insert cattiness and a sense of competition into narratives of female success, but here are two self-assured, talented women — the exact kind of women so often pitted against each other — acting like the fabulous, loving sisters they are. The flawless dancing is just the icing on the cake.
Image Credit (All): Getty