15 Photos of the Homemade Weapons Ukraine's Protesters Built to Stand Up to Armed Forces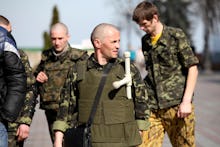 Ukraine's revolution is now over, but the country is still very much in the midst of a crisis: Between mounting tensions in the East and the face-off over Crimea, Ukraine's new government already has a rocky road ahead of them. 
Now mostly empty, Kyiv's Independence Square stood as the symbol of the revolution, and the site of an immense face-off between protesters and security forces. According to the United Nations, 121 people died during the protests – most of whom were demonstrators. 
With no previous experience in combat, lack of military training and limited access to conventional weapons, the protesters who filled the city's central square had to use other methods of defending themselves against the government's ruthless riot police.
Talented filmmaker Vanessa Black examined the range of homemade weapons used throughout the revolution for PolicyMic. Speaking to Maidan's self-defense unit, Black uncovered the types of explosives and makeshift weapons protesters donned.
From molotov cocktails to homemade explosives, Black found that these weapons were not only terrifyingly easy to make, but are also symbolic of the kind of troubles regular Ukrainians faced. 
1. People had to defend themselves under desperate circumstances.
2. Protesters used homemade bombs and molotov cocktails among other types of weapons.
3. People turned fireworks into homemade bombs.
4. Every day items, like aerosol cans became ingredients of homemade bombs.
5. Nails enabled clubs to become more dangerous, and were used to make bazookas.
6. Needless to say, these explosives are incredibly dangerous.
7. They combine to make "the smell of the revolution."
8. Of course, the molotov cocktail became central to the protest movement.
9. In the chaos of urban guerilla warfare, it's easy to find the parts necessary to make a molotov cocktail.
10. To make it, you fill a glass bottle with a gasoline mixture.
11. The wick, often dipped in kerosene or alcohol, is lit before tossing the molotov cocktail.
12. Ukraine's protests lasted from November 2013 through February 2014, leading participants to be increasingly creative in building defense.
13. Protesters used shields, as well as clubs and bats ornamented with nails.
14. Here's a member of the self-defense unit sporting a dagger.
15. This member of the self-defense unit is constructing a homemade bazooka.
To see more of Vanessa Black's work, check out her website and follow her on Twitter.