DreamWorks' Latest Movie Will Have Something No Pixar Film Has Ever Tried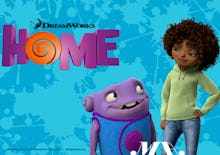 Brace yourself, America.
DreamWorks Animation Studios has announced the addition of a black female heroine (gasp!) to its repertoire of white dogs, green ogres, snails, Neanderthals, pandas, white people and Antz. In doing so, it joins an elite club consisting of ... well, nobody.
Not one major Hollywood studio has released a 3D animated feature starring a black character.
Image Credit: Shadow and Act
The closest has been Disney, which released the 2D fantasy The Princess and the Frog in 2009. On the other hand, Pixar — now fully integrated into Disney's intergalactic empire — has yet to make a non-white character or voice talent the center of a movie. At least DreamWorks had Chris Rock play a zebra.
But moving on. The new film, titled Home, follows "an enterprising girl named Tip" who befriends Oh, a fugitive alien whose people have taken over Earth and relocated all the humans. In classic Defiant Ones-fashion, the pair must overcome their differences to save themselves and reconcile their people. Also, they have a flying car.
Shadow and Act reports that Tip will be voiced by — wait for it — Rihanna, with Big Bang Theory star Jim Parsons playing Oh. Steve Martin will voice Captain Smek, the egotistical leader of a diminutive but over-confident alien race called the Boov, and the story is based on Adam Rex's children's book The True Meaning of Smekday.
A taste: Anyone who saw Mr. Peabody and Sherman or Rio 2 in theaters has a feel for the film already. A 4-minute short called Almost Home precedes both and stars some of the Home characters:
The short illustrates the perpetual struggle of the Boov, who were forced from their native planet and now are constantly searching for a place to live. Too bad everywhere they land is either populated by vicious predators, plagued by horrible weather or utterly devoid of light. So sad.
But the bigger story is the significance of having a young black girl anchor a major Hollywood feature. Needless to say, it's a rare occurrence. Quvenzhane Wallis is making waves in the live action realm with starring turns in Beasts of the Southern Wild and the upcoming Annie adaptation, but otherwise, the landscape is sparse. After decades of animated features that celebrate myriad shades of white girl-ness — with a dash of Pocahontas, Mulan and Tiana thrown in for good measure — it's refreshing when a studio realizes that other people exist and have stories worth telling.
As far as economics, DreamWorks could reap major benefits from this move. A recent study conducted by UCLA's Bunche Center for African American Studies concluded that films with higher rates of onscreen minority involvement are generally more profitable. In 2011, the margin was about $90 million in favor of diverse films. While it's unclear how these numbers translate to animated features, it would certainly help researchers figure it out if there were more to choose from.
With that in mind, hopefully Home is the beginning of a much broader trend. It's about time.