11 Cinematographers You Should Be Following on Instagram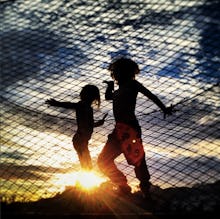 Cinematographers don't get much glory, but without their eye, their expertise and their dedication to visual excellency, our movies and TV shows would look a lot less interesting. They determine the shots, set the mood and turn the everyday into the extraordinary. We rounded up some of the most celebrated cinematographers of the last few years to take a peek at what they're doing on the everyman's image beautifier: Instagram. 
So what happens when professional filmmakers view the world through the lens of Insta filters? Social media magic. Plus it provides a unique look into how these filmmakers see their world and perhaps how they see the movies they make. Here are 11 cinematographers who are doing beautiful work not just on the big screen but via their iPhones as well.
1. Phedon Papamichael ('Nebraska')
Papamichael (@papa2), a frequent collaborator with director Alexander Payne, was the director of photography for The Descendants, 3:10 to Yuma and this year's beautiful, and Oscar-nominated, black-and-white Nebraska. Athens-born Papamichael is a frequent home-life Instagrammer with lots of pics of his kids. He also throws in the occasional homage to his own film work.
2. Emmanuel Lubezki ('Gravity')
Lubezki (@chivexp) was the director of photography on visually stunning films like The Tree of Life, Children of Men and Gravity — for which he won an Oscar. Is it any wonder his Instagram is filled with cinematic shots? 
3. Matthew Libatique ('Black Swan')
Frequent Darren Aronofsky collaborator Libatique (@libatique) (Requiem for a Dream, Black Swan, Noah) likes to give followers a peek of what's going on behind the scenes. His Instagram sheds light on how shots are made and what life is like on set.
4. Eduard Grau ('A Single Man')
Grau (@eduardgrau) has an interesting body of work (which includes last year's A Single Shot). He is best known as the man behind the stylistic imagery in Tom Ford's A Single Man. Like Libatique, he Instagrams from set, but shows more scenery than mechanics. His photos are dreamy and geometric.
5. Reed Morano ('Kill Your Darlings')
One of the noticeably few women in cinematography, Reed Morano (@reedmorano) created the eerie shots of Frozen River and Kill Your Darlings, not to mention her beautiful work on HBO's Looking. Her Instagram is a gorgeous look at the quotidian.
6. Rodrigo Prieto ('The Wolf of Wall Street')
Mexican cinematographer Prieto (@rpstam) has shot some of the biggest films of this century — The Wolf of Wall Street, Argo, Biutiful, Babel, Brokeback Mountain and 8 Mile, to name a few. His Instagrams are, predictably, perfectly composed each and every time.
7. César Charlone ('City of God')
César Charlone (@cesarcha) was nominated for an Oscar in cinematography for the gritty and moving City of God. He brought his stunning vision to Blindness, Man on Fire and The Constant Gardener. Charlone's Instagrams are airy, with a focus on lighting and blurred effects.
8. Ben Richardson ('Beasts of the Southern Wild')
Richardson (@benrichardson), director of photography for the brilliant Beasts of the Southern Wild, has just finished work on the anticipated The Fault in Our Stars. His Instagrams are subtle and beautiful — real life, only enhanced.
9. Yoni Brook ('Valley of Saints')
His name might not be filling the tabloid pages, but Brook (@yonibrook) is a young filmmaker and cinematographer who last year was nominated for an Independent Spirit Award for Valley of Saints, an Indian film that won the World Dramatic Audience Award at Sundance. His Instagrams span the globe and are pure art.
10. Jody Lee Lipes ('Ballet 422')
Lipes (@j_la_la) directed and shot the ballet documentary Ballet 422, which had its premiere at the 2014 Tribeca Film Festival. Lipes is an up-and-coming filmmaker whose credits include Martha Marcy May Marlene, Girls and Jay Z's Picasso Baby performance art piece.
11. Joel Hodge ('Bellflower')
Hodge (@joelhodge) has a short resume, but it includes serving as director of photography for 2011's Bellflower. He was nominated for an Independent Spirit Award for the work, but ultimately lost to the much bigger-budgeted The Artist — to much protest from the industry. His Instagram focuses on the people around him, showcasing individuals, with some images from shoots mixed in for good measure.