Putin's Allies Just Completed a Hostile Takeover of Russia's "Facebook"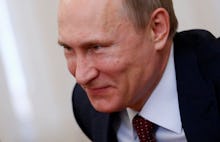 Well, this is alarming: The founder of Russia's most popular social network, VKontakte, has been fired. Pavel Durov says that he was removed from his position as the company's CEO under distressing circumstances. In a post explaining how he was let go, Durov claimed that the company is now under the "complete control" of Putin allies Igor Sechin and Alisher Usmanov. The move makes this the latest media outlet controlled by the Russian government, which looks to place Kremlin oversight in every significantly large corporation in Russia.
Rumors that Durov had been planning to leave the site began last year, and the CEO sold his remaining 12% share in the company in January following shareholder squabbles. And on April 1, he posted a resignation notice he later explained was an April Fools' joke, complete with a picture of Doge.
But this one does not appear to be a joke. Last week, Durov claimed that the Russian government had demanded that he turn over the "personal data of organizers of the Euromaidan [Ukrainian] protesters," saying that he had issued a "categorical refusal." Durov also claimed that the fight over personal user data had resulted in his decision to divest himself of any stakes in the company, and cited two documents that purportedly show the FSB's legal citations for the request. Now, the company has apparently fired Durov under the pretext that he had quit on March 21 and never officially withdrew his resignation; the founder claims he only heard about his termination on the news.
Durov's full statement below, courtesy of BuzzFeed:
Judging by the news, as a result of my public renunciation last week, today I was fired as general director of VKontakte. It's interesting that the shareholders didn't have the bravery to do this directly, and that I learned about my firing from the press.It is reported that today the board of directors of VKontakte * suddenly * found that a review of my statement of resignation from the post of general director on April 3 (which they publicly accepted before this), turned out to have been filled out "not according to all the rules," so I am automatically fired. As far as I understand, this opaque position is held by all the shareholders.In this way, today VKontakte goes under the complete control of Igor Sechin and Alisher Usmanov. Probably, in the Russian context, something like this was inevitable, but I'm happy we lasted seven and a half years. We did a lot. And part of what's been done can't be turned back.
Who are Igor Sechin and Alisher Usmanov, the two people who now control VKontakte? Eurasia analyst Hannah Thoburn says Sechin's nickname is "Darth Vader" and that "He's just not a nice guy." Thoburn also says that Sechin, who helped build Russia's modern oil business, once was a KGB officer who served with Putin in the St. Petersburg office. A former deputy prime minister and close Putin ally, Sechin is also considered a key leader of the Kremlin's Siloviki faction, composed of former security services members. A Stratfor profile by Peter Zeihan notes that Sechin was once considered the "USSR's point man for weapons smuggling to much of Latin America and the Middle East." Thoburn says that while he's not exactly a Kremlin "yes man," he and others in his circle tend to have similar world views.
Usmanov, CEO of Gazprominvestholding, is considered Russia's richest tycoon for the third year in a row. A CNN Money profile notes he is one of the Putin-allied oligarchs, who once served time in an Uzbek jail for fraud and extortion (which he denies having a part in). In 2011, Usmanov fired a publishing company executive and an editor-in-chief after the Kommersant Vlast magazine ran photos criticizing Putin.
Both of those men stand in stark contrast to Durov, a libertarian who refused to shut down activist VKontakte pages in 2011 after anti-Putin protests began over allegations of electoral manipulation.
"The new management, I think, will be more flexible," Hopes & Fears editor-in-chief Nickolay Kononov told The Verge. "They will not protect users' information as strongly as Durov did."
Samuel Greene, director of the Russia Institute at Kings' College London, says that the government's interest in VKontakte is similar to its stakes in every other significantly large corporation in Russia and designed to place Kremlin supporters "in a position to control things if and when something happens."
VKontakte is the absolute leader in Russia's social media market, reported to have 44 million users in October 2013 by The Voice of Russia compared to Facebook's 12.8 million. While posturing key Kremlin-allied oligarchs and former officials to control the social media network doesn't mean mass censorship is coming, the Turkish government's crackdown on Twitter amidst mass protests earlier this year shows how easily a regime feeling pressure can turn technology against its populace.