Maps of Where People Uber Show Something About a City's Rich and Young Neighborhoods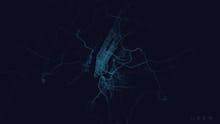 Uber, the breakout and sometimes controversial taxi-hailing service, recently released a series of incredible maps showing where its premium taxis actually go in 100 cities across the world, and the results aren't just of interest to traffic planners. In fact, because the service tends to ferry wealthier passengers from one ritzy neighborhood to another, with a little creative thinking, Uber's maps reveal some pretty telling class lines in virtually all of the cities monitored. 
Just look at New York City, where Central Park and below in Manhattan as well as the richest parts of Brooklyn light up like Christmas trees. Few Uber riders make it out to Queens or the Bronx, or uptown into Washington Heights and Inwood.
Take it with a grain of salt. After all, the numbers could partially reflect people taking shorter rides between destinations downtown and increased population density rather than systematic exclusion of the poor. But Uber is a pricey service, explicitly marketed towards the wealthy, so it's actually not that far of a stretch to conclude that the service's most heavily trafficked service routes would fall along class lines.
Look at this map of Mexico City, where Quartz points out the most heavily gridded areas include the high-end Polanco shopping district, ritzy restaurants in the Condesa neighborhood and the nightclubs of Zona Rosa. Much of the city remains Uber-free.
In Los Angeles, Santa Monica and Hollywood/West Hollywood see the most traffic, with a few tendrils stretching down to LAX.
In Sydney, most rides are in the business district or the richer suburbs.
Shanghai's city center and airport receive the most traffic, with Yan'an Elevated Road apparently taking the bulk of traffic.
In New Delhi, only downtown and the rich southern neighborhoods see Uber traffic.
Mumbai generates a similar pattern. 
Pittsburgh has a high concentration of Uber traffic along its downtown Golden Triangle and along the nightlife-heavy Station Square and South Side areas.
Paris' Boulevard Périphérique marks the boundaries between the city proper and its wealthy suburbs, so it's no surprise that it marks the real boundary between Uber and non-Uber.
This is a no-brainer. You can reasonably expect that an expensive taxi service would be populating the same routes and thoroughfares the wealthy ride anyways every day. Uber is, of course, the app that occasionally charges surge fares (price gouging) of hundreds of dollars for relatively short trips. But it's yet another reminder that class lines aren't just social. They can also be physical, with the places where the ultra-wealthy live, work and play often inaccessible to the rest of us.
For other perspectives on how new technology can shed light on class lines, check out these maps showing how popular jogging routes tend to fall in rich neighborhoods, or these set of maps revealing the breakdown of Android and iPhone distribution among city districts.