Disturbing Images Show a Cop Choking an Unresisting College Student Until He Falls Unconscious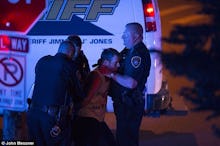 A sheriff's deputy in Knoxville, Tennessee, has been found "unsuitable for future employment" by Sheriff J.J. Jones after he was photographed choking a University of Tennessee student until he passed out — allegedly while he was complying with officers and being placed in handcuffs.
The disturbing images from freelance photographer John Messner showing former Deputy Frank Phillips (47) manhandling 21-year-old Jarod Dotson can be seen below, and quickly went viral on Facebook and Reddit (warning, they're pretty brutal):
Image credit: John Messner
Police had been responding to a "disturbance" near the University of Tennessee when a house party estimated to be composed of 800+ individuals spilled out onto the street. Deputy Brandon Gilliam wrote in the report that when detaining Dotson, he "began to physically resist officers' instructions to place his hands behind his back, and at one point grabbed on to an officer's leg." At some point, Deputy Phillips felt the need to begin choking Dotson to the point where he passed out — lethal force by any definition.
According to Troy, N.Y. community advocate Ben Brucato, the only time such force is authorized under Department of Justice guidelines is when "an officer or civilian has a immediate risk of death or severe bodily injury." It's arguable that no agency would accept choking as legitimate use of force in any realistic scenario.
But ... While Deputy Phillips seems to be receiving his just desserts so far (the case has been referred to the Knox County Sheriff's Office to determine any future action), his immediate termination and possible future prosecution are far from the norm. Across the country, police have wide powers to use excessive force without fear of punishment — a problem so severe that in 2011, the Justice Department was investigating 17 police departments simultaneously, "more than anytime in the division's history." The Root reported then that the DOJ's investigations struck everywhere from liberal cities like Seattle, Denver, and Portland to tiny places like East Haven in Connecticut. The Bureau of Justice Statistics reports that in 2008, 84% of people who had experienced force or were threatened with force thought the police were acting improperly. With the preponderance of recording devices in cell phones, videos of police harassment and brutality abound on the internet. For the most part, only well-documented incidents like the one above ever result in charges filed against police or even disciplinary action.
Lawsuits don't appear to result in changes of culture, either. The Albuquerque Journal found that APD misconduct has resulted in $24 million in judgments against the city in lawsuits since 2010, a number that seemed likely to increase as existing suits were resolved and others move to court. But that didn't stop their officers from shooting more than 37 people since 2010, killing 23.
Even colleges aren't immune from an epidemic of law enforcement excess; just look at the 2011 incident at the University of California, Davis where campus officer John Pike pepper-sprayed a group of peaceful protesters. He faced no charges and was even awarded $38,000 in settlements for his "psychiatric injury."
And Sheriff J.J. Jones? He claims that "In my 34 years of law enforcement experience, excessive force has never been tolerated." But a 2007 report found that former Knoxville officers felt that they were given inadequate support and forced to work stressful beats, ending up with KPD officers taking their frustrations out on suspects. And Tennessee ranked 8th in officers accused per 100,000 officers in PoliceMisconduct.net's 2010 review of excessive force allegations.