A Racist Fan Hurled a Banana at a Brazilian Soccer Star, and He Reacted With Sheer Brilliance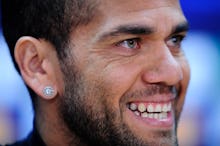 The news: Racism isn't usually associated with high levels of potassium and Vitamin B6, but that might change after last weekend.
FC Barcelona player Daniel Alves was about to perform a corner kick during an April 27 match against Villarreal when a spectator threw a banana at him – a racial taunt often leveled at players of African descent.
Alves could have ignored the slight. But in a stroke of "middle finger" brilliance, he instead picked up the fruit, peeled it and ate it:
"My father always told me, son, eating a banana prevents cramps LOL," Alves wrote on Twitter after the game, "how did you guess Hahaha."
The background: On a particularly racist weekend in pro sports, Alves provided one of the few bright spots. Barcelona went on to win 3-2, a victory the Brazil native humorously attributed to the controversial incident:
"I don't know who threw the banana but I want to thank him," Alves commented after the match. "It gave me the energy to put two more crosses in for our goals."
Unfortunately, such occurrences are far from uncommon. The "banana on the field" move has been a staple of European soccer matches for many years: In Jan. 1988, when Scotland's Rangers Football Club debuted Mark Walters – the first black player in team history – opposing Celtic FC fans commemorated the occasion by throwing "hundred of bananas" onto the field and making monkey noises. Not to be outdone, and perhaps oblivious to the irony, Rangers fans retorted by singing: "I'd rather be a darkie than a Tim [Scots-Irish Catholic]."
This tradition lives on today: In Russia in 2010, fans of the Lokomotiv Moscow soccer team celebrated trading away Nigerian player Peter Odemwingie by holding up a "thank you" sign with a banana painted on it. The following year, Brazilian player Roberto Carlos had a banana thrown at him during a match in Samara, Russia:
"You know when that sadness hits, that feeling of being powerless?" Carlos said later. "I left there sad, hurt. So many kids there. That has to be banned from football."
Image Credit: Deadspin
Other recent incidents include a German teenager who admitted to throwing a banana at Brazilian player Neymar in March 2011, and the routine racial taunts hurled at black Italian star Mario Balotelli, who consequently prefaced his Euro 2012 tournament appearance by saying: "I will not accept racism at all. It's unacceptable. If someone throws a banana at me in the street, I will go to jail, because I will kill them."
Clearly, such behavior fails to bring out the best in people. Perhaps that's part of why Alves' reaction is drawing such praise around the Internet:
"[Incidents like this] have been happening for 11 years," he said later, "we can't change it, so best to treat it as a joke. If we give it no importance, they fail."
It's sad to imagine this as an "unchangeable" set of occurrences, yet despite bans and punishments levied by soccer leagues around the world to prevent such behavior, it continues nonetheless. With this in mind, perhaps Alves' genial solution is also a potent metaphor: What better way to sidestep racism's power than by eating it now and shitting it out later?